We start 2023 with a true story. This comes to reflect the spirit of overcoming human beings facing the difficulties that arise in life. You may be wondering what is the relation with our fans… Well, a lot! Not even the most serious illness stops man/woman's will to fulfill his/her dreams and entertainment. Parkinson's and modeling can also go hand in hand, although it is hopelessly and unfortunately trembling. Christopher Columbus, with his efforts, discovered America. Our dear modeler friend Frédéric Lavoine, with his passion, has conquered something more important: all our hearts.
It's been almost two years without him being able to work in the beautiful profession of school driver that he left because of this terrible disease. Too many risks. He was 54 and a half years old when the doctors diagnosed it, but it seems that eighteen months earlier it began to knock on his door warning him of its presence.
PARKINSON'S AND MODELING: FRÉDÉRIC, THE REAL MCGYVER OF OUR TIME
Frédéric was brilliant at his job, and among people with disabilities and reduced mobility. Furthermore, he could never imagine that his "future working life would be reduced to the list of problems and difficulties caused by Parkinson's", assures our friend, who also emphasizes that he was "an active person with resources", even his wife calls him McGyver after the famous television series in which the protagonist finds practical solutions to any problem. Without egocentrism, Frédéric is a "passionate lover of manual well done labor", he says. Of course, he recognizes that the only thing that resists him is mechanics.
With all the pending things he has to do and now he can't because he's not able to deploy all his 'superpowers'… A big disappointment for him. Frédéric's world falls on him, a moving yo-yo in comparison to the perpetual activity of our friend. Painting a picture, reforming the cabin, restoring a piece of furniture, taking care of the garden… All that is over.
It is the moment in which Frédéric decides to take another course to continue being our particular McGyver. With this cold winter coming up where you spend a lot of time at home, you have to keep yourself busy. It is true that he was discouraged by the tremors of his hand and by the blockages of his joints. Medical treatments cannot give him a complete cure: "I didn't want to draw or write in my book, I was stuck on the blank page", says Frédéric. The 'beast' in the cage will start roaring at his wife and daughter, who encourage him to keep his hands busy sewing, which he loves. But it is not enough for him, so the memories of his childhood and his solidarity actions make him consider returning to modeling.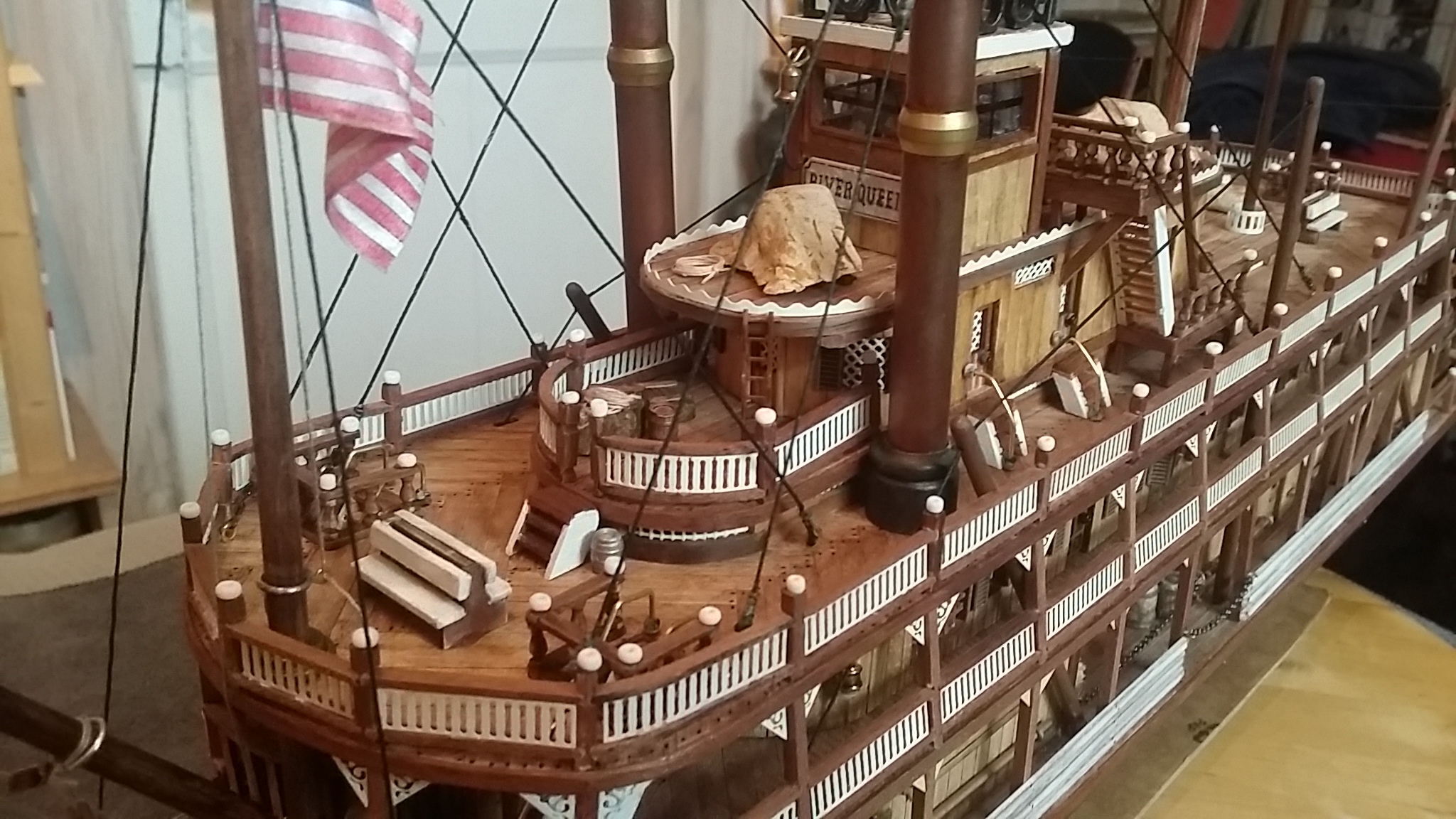 HIS NEW CHALLENGE, BUILD WOODEN MODEL SHIPS
"Build models with modeling instead of destroying as Parkinson's does", emphasizes Frédéric. That is their motto. Parkinson's and modeling necessarily go hand in hand in his current life, but the passion for model building becomes his particular fight and his leisure against this serious disease. Our friend remembers that building "model ships, planes and cars was a true passion forty years ago".
Of course, doubts about his ability to develop this hobby plague him: "Will I still be able to model, glue or paint such small parts?, he wonders. To which he answers that it will be his new challenge and that, to "complicate it even more", he will assemble a wooden model ship. Because, for Frédéric and quite rightly, "if it were made of plastic everything is molded and formed, but with a wooden one you have to cut, mold, take time… Anything that is not compatible with Parkinson's".
PARKINSON'S AND MODELING: HEALTH BENEFITS OF ASSEMBLY MODELS
In December 2020, Santa decides to go down his chimney to give him "the magnificent naval modeling kit with the paddle-wheeled steamboat King of the Mississippi", smiles Frédéric. As if he were a child with a new toy, he decides to quickly 'inspect' the contents of the box: "Lots of parts of wood, many small items -too many- and my shaking hand…" , says our friend. For this reason, at first, he leaves aside its assembly. It has to be his relatives who encourage him to start building the model and Fréderic sets up his 'mini workshop' at his office, as he describes it.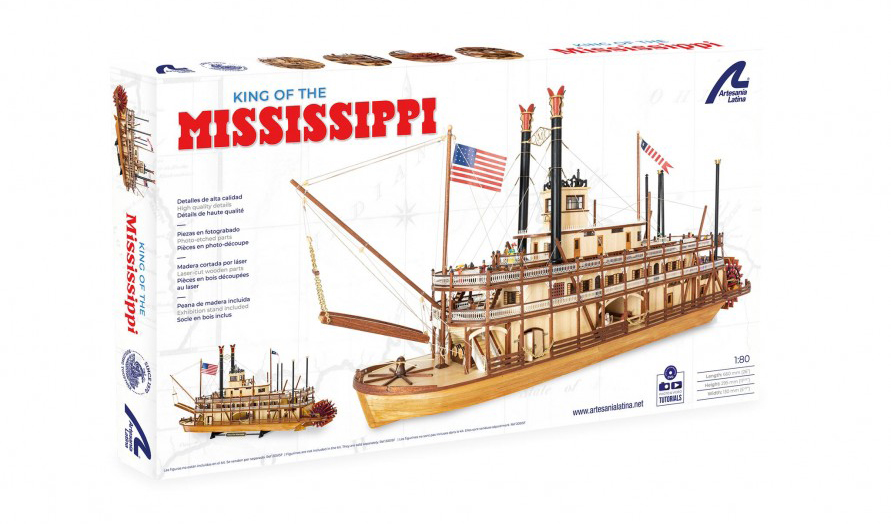 Since we already know that Frédéric is the McGyver of our time, of course, he doesn't want to assemble the model "foolishly" following the plans for it. No, for what! :). So take the path of building a unique model, according to his taste. He begins in January 2020 and ends in May of the same year, barely 5 months later, quite an achievement from our point of view. In his own words, building the model is "an enormous pleasure" for him. He dedicates hours and hours to it, "not out of obligation but out of necessity", he stresses.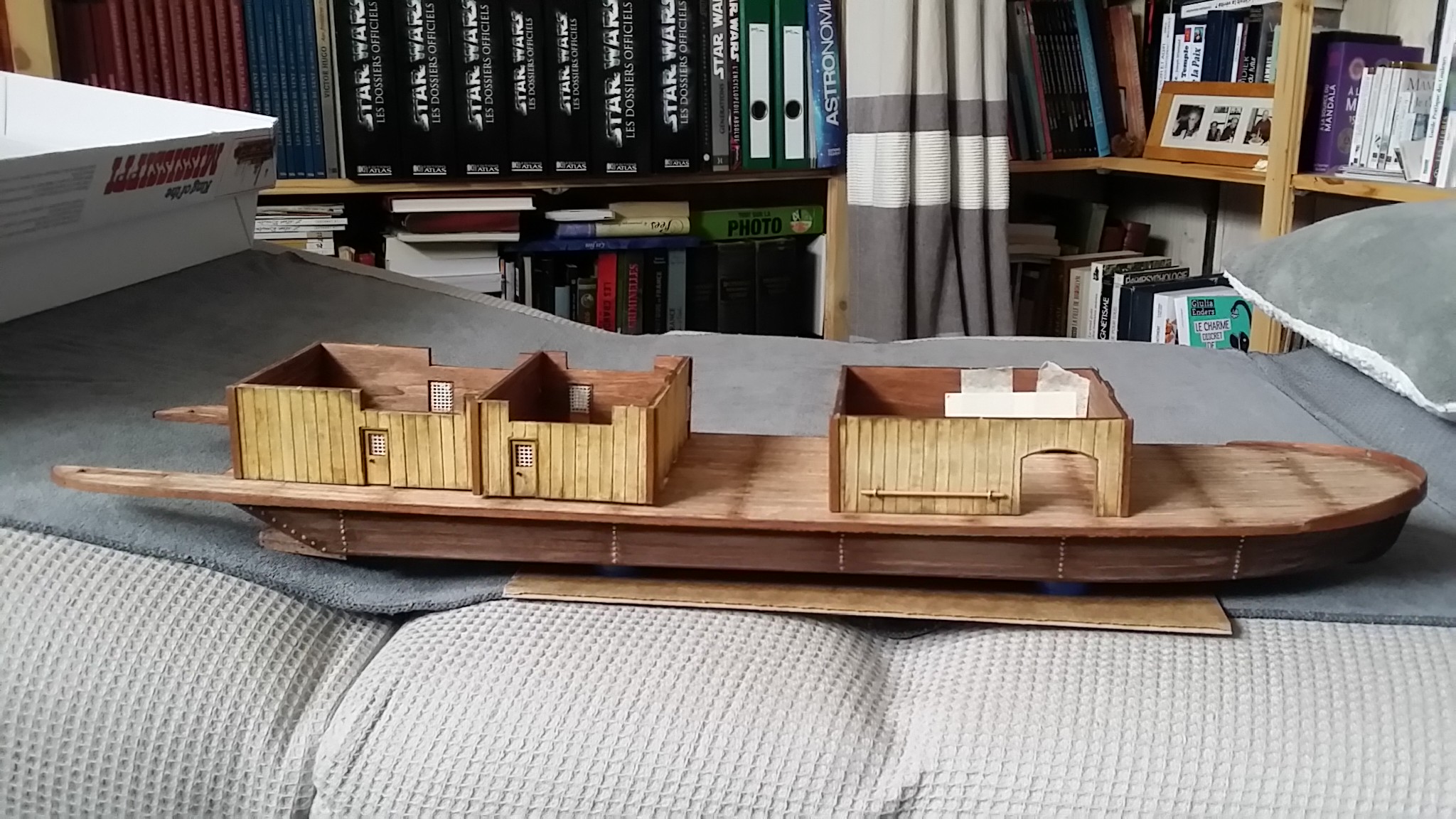 Thanks to the King of the Mississippi, he forgets his hand tremor and the rest of his symptoms. This is due to, as Frédéric says, "the meticulousness and slowness of the tasks that the hobby requires". Parkinson's 'disappears' and modeling resurfaces after more than four decades buried. What's more, these modeling demands act on Frédéric as "relaxing for the spirit", exclaims our friend, who also asserts that, in this way, he recovers "harmony between body and mind". What conclusion do you reach? That modeling is fully compatible with Parkinson's.
PARKINSON'S PATIENTS MODELING ASSOCIATION NEEDS A PLACE WITH CEILING
Since he can't sit still, he creates a modeling association for people with Parkinson's, including its statutes and internal regulations. He calls it 'Les Mains Agiles – Club de Modélisme'. Its main objective, very interesting: to share and teach other enthusiasts who suffer from this disease the love for the construction of static models. Frédéric even got to meet with the president of the Vendée France Parkinson's Committee, Michel Parsy, who approved his initiative.
However, then a setback arises. Frédéric tells him about his difficulties in finding a place and opening a bank account as he is not a professional. Resigned at that moment, he warns us of what we already know: "For a bank and its owner, being disabled, no longer working and having weakened personal income do not give credibility to a president and his association", he states emphatically.
With Parsy's encouragement, Frédéric writes an article to present his project to society on social media and on the Inter'Park85 newsletter that belongs to France Parkinson Foundation. On the one hand, he needs a room or premises -a space with a ceiling and walls, in short- of at least 30 square meters. With one or two rooms and access for disabled people. This space must be in the city of La Roche -sur- Yon or its vicinity with a nearby bus service. On the other hand, obviously, he needs elements to equip it with basic materials and tools. Frédéric has ready a list of it.
In February 2022, due to the hieraticism caused by the Covid pandemic period, Fréderic had to dissolve the old association to create a new one under the name of 'Une Main Vers l'Horizon – Modélisme'. Since then, he has been trying to give life to no avail.
HOW TO CONTACT FRÉDÉRIC LAVOINE?
Modelers Friends around the world and  Artesanía Latina friends, let's help Frédéric to fulfill his dream! No disease can against modeling lovers. In addition, this hobby has beneficial effects on the health of patients. So that the modelers can help him, he have given us an email in which you can ask what he needs that suits each one's budget. Little by little or if there is a modeler friend with high purchasing power among us… The association for modeling with Parkinson's must be a reality!
We kindly indicate Frédéric Lavoine email address: unemainverslhorizon@gmail.com