Summer has arrived, it has arrived! It is the season of the year in which our friends modelers want to enjoy their passion for the hobby outdoors and, if possible, with water to stay cool. Well, it also arrived to our warehouse the majestic, the huge R/C tugboat model Atlantic (20210) at 1:50 scale. Prepared for radio-control, fully navigable and, now, lightable so that it shines at night. It is the faithful miniature replica of a tugboat from the 80s that you all must build to have fun as a children.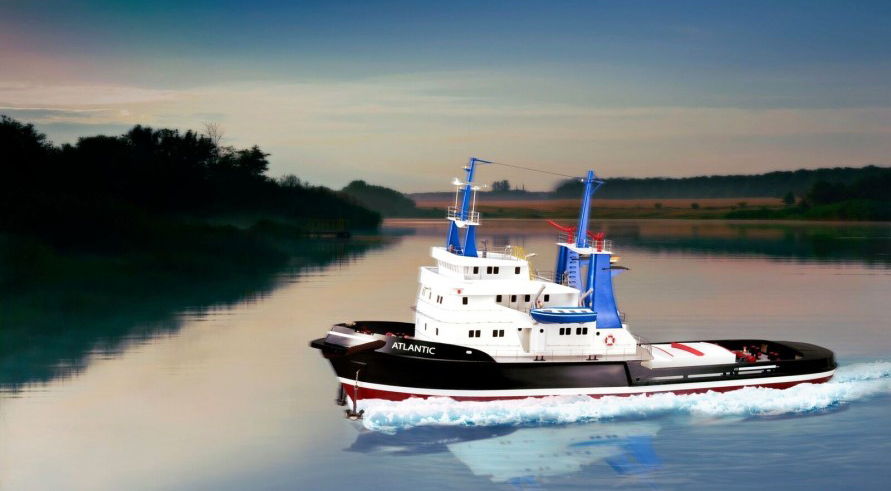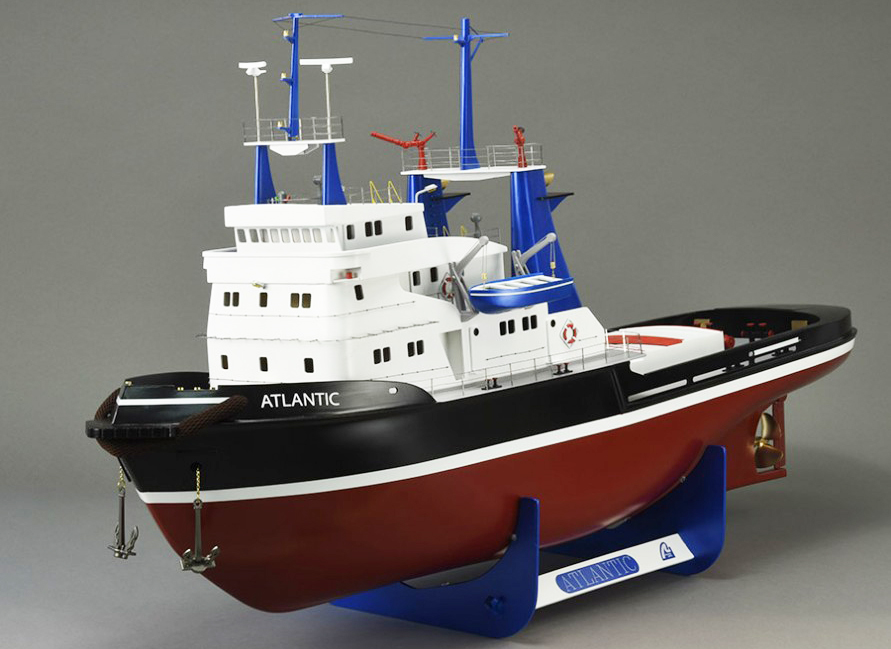 This offshore tugboat was prepared to withstand the most difficult weather conditions. Its structure was designed so that its stability was total at sea, as well as being very manageable. Everything so that models like the Atlantic were capable of towing large ships such as oil tankers or cruise ships in open water. Let's get to know all the features and contents of your fabulous naval modeling kit!
R/C TUGBOAT MODEL ATLANTIC: CONTENTS AND FEATURES
Assemble your r/c tugboat model at 1:50 scale of Atlantic, this classic vessel from the 20th century. The navigable ship modeling kit contains high-precision laser-cut board parts, hardwood, photo-etched, brass and cast iron: it has numerous details in chemical cuts to be more faithful to the original ship. It's just gorgeous!
Likewise, the hull of the Atlantic r/c tugboat model is made of high-quality ABS plastic, so it can be easily converted into a radio controlled model, being more resistant and waterproof.
No forgetting that its interior is ready for the installation of the electrical system -not included-. The water cannons are designed to be usable -mechanism not included-.
Now, the ship model prepared for R/C Atlantic… It is also ready to be able to light up! To do this, install LED Lighting Set for Models and DIY Projects (27590) by Artesanía Latina, for sale separately.

R/C TUGBOAT MODEL ATLANTIC: VERY EASY ASSEMBLY GUIDE
For its assembly, follow our complete multimedia guide on DVD format with images and 3D renderings, step by step and in full color. The kit does not contain printed instructions. You can also download the digital instructions for free by clicking the button on this product sheet called 'Instructions and Downloadable Contents'.
A naval jewel that, once it is built, measures 41.73" (1,060mm) length, 23.62" (600mm) height and 9.84" (250mm) width. Modelers from intermediate level onwards will be delighted by its great stability in the water, although it can also be displayed at any room with its fantastic exhibition base included in the kit.
ACRYLIC PAINTS SET FOR ATLANTIC MODEL SHIP
Other of the novelties that the adaptable for R/C Tugboat Model Atlantic brings is its Set of Specific Acrylic Paints (277PACK28), for sale separately. 12 jars of different paints, each one with 20 ml of product, all of them acrylic, water-based and quick-drying. The set includes the following colors: Off-White (x2), Off-Black (x2), Grey FS36375, Hull Red (x2), Vermilion, Deep Yellow, Aluminium, Gold and Bright Blue.
And the final result when you finish building the ship model prepared for R/C Atlantic (20210) by Artesanía Latina… It is this huge beautiful ship that will sail at sea or on your pool!
Do you want to have fun like a child? It's the moment!