More news! We already anticipated that this year was going to be prolific for the presentation of new and renewed products made by Artesania Latina. Here we go with the totally redesigned second scale model of the first quarter of 2022! On this occasion, we show our modelers friends the new model of the HMS Endeavour Longboat (19005) at 1/50 scale, the redesigned wooden modeling kit of the British ship. It is aimed at amateurs who wish to get started on naval modeling and also to those who want beautiful challenges in which to apply their skills.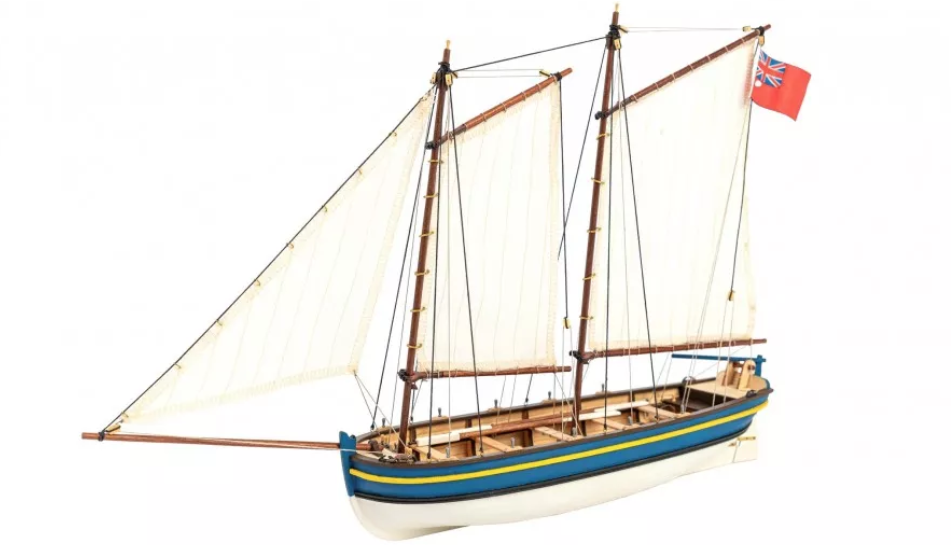 Undoubtedly, this faithful miniature replica is the essential complement for the model of HMS Endeavour ship (22520). Going back to the longboat, our team of 3D designers and modelers has improved your assembly experience… Find out how reading this post! The presentation and high quality of the model parts, its instructions, its sails, its wood… Everything has been redesigned so that the modeler is fully satisfied!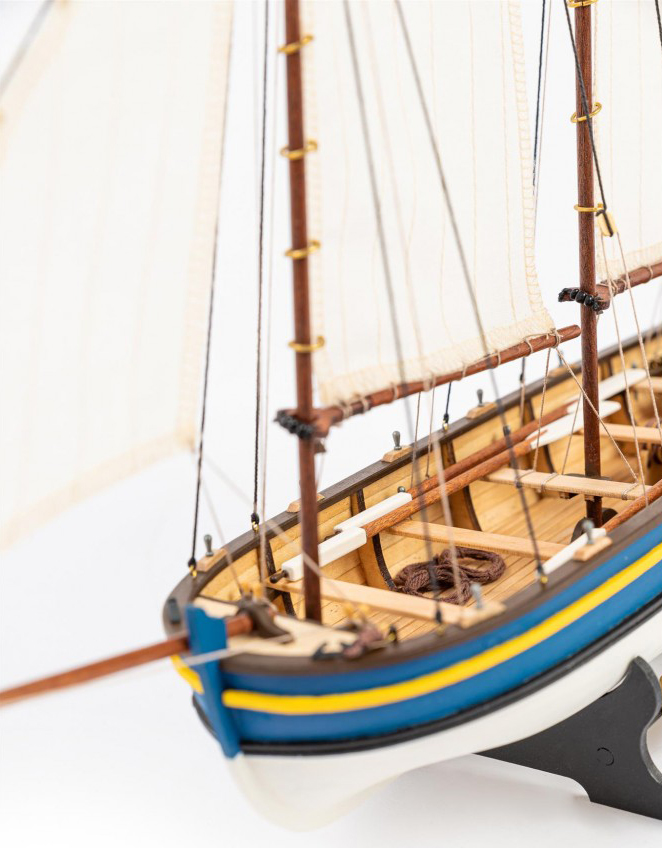 HMS ENDEAVOUR LONGBOAT MODEL: NEW HIGH QUALITY PARTS
We are proud to announce all the new elements of the HMS Endeavour's longboat model (19005) at 1/50 scale, a marvel of naval modeling. Break down all the news with the high-quality parts that make up this fabulous wooden modeling kit. Suffice it to say that we ensure that all parts fit together perfectly. Besides that its level of detail is simply… Impressive!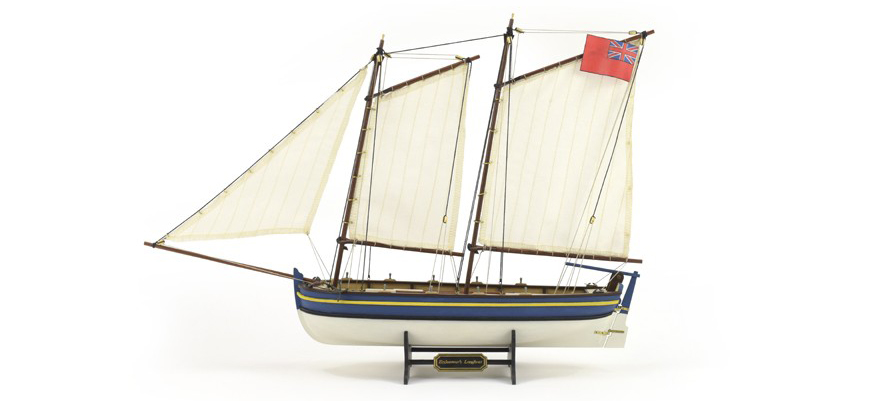 It contains beautiful, high-precision, laser-cut plywood boards, fine woods like birch and bamboo strips and round dowels, and stunning die-cast and brass parts. We find in the model of the HMS Endeavour Longboat everything you need to build this naval miniature at your modeling workshop.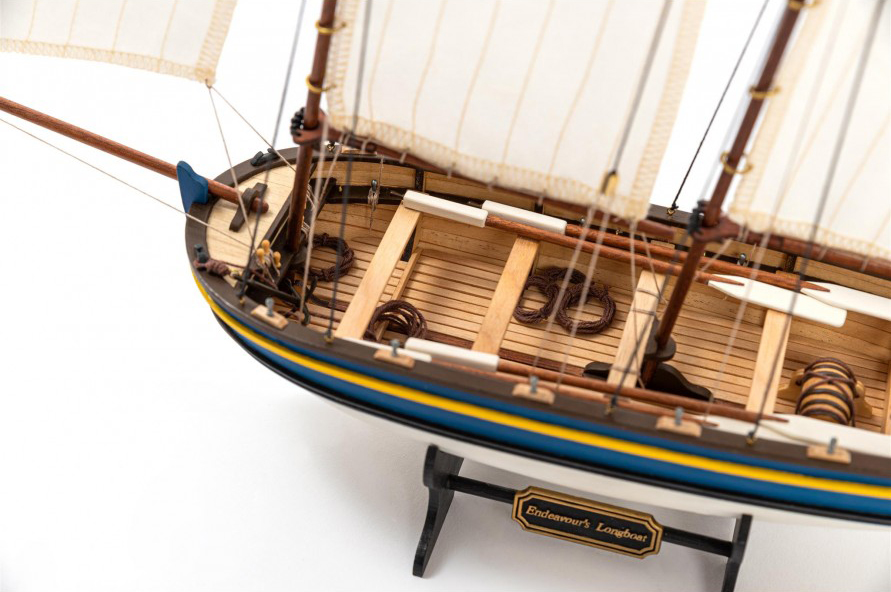 As for the sails, it leaves us speechless! This wooden modeling kit comes with a set of 3 sails made of cotton, pre-cut and sewn ready to be placed and cotton threads. It also comes with the UK flag in sticker format. The HMS Endeavour Naval Auxiliary Ship Scale Model is ideal for beginning modelers to take their first steps working on rigging.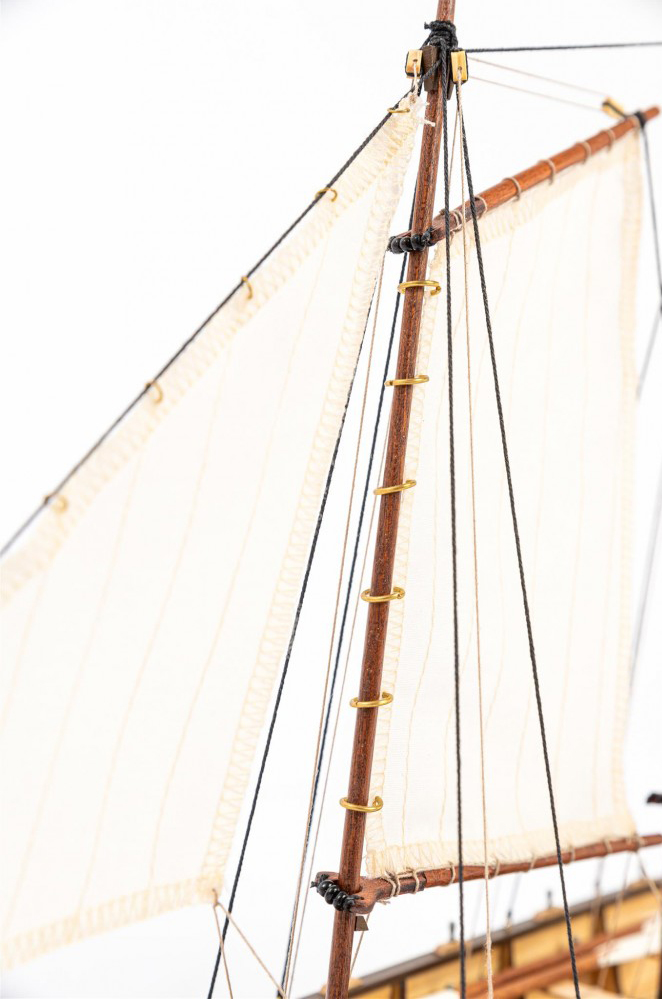 HMS ENDEAVOUR LONGBOAT MODEL: VERY DETAILED INSTRUCTIONS
The instructions for the assembly of the HMS Endeavour Captain's Longboat model (19005) are perfect. Updated and highly detailed, they help the beginner modeler to build the scale model of the British boat. They are on DVD multimedia format for computers -Windows and Mac-. Now, we're including the paper ship plan this time. In addition, you can download the instructions for free at HMS Endeavour Longboat product sheet on the web.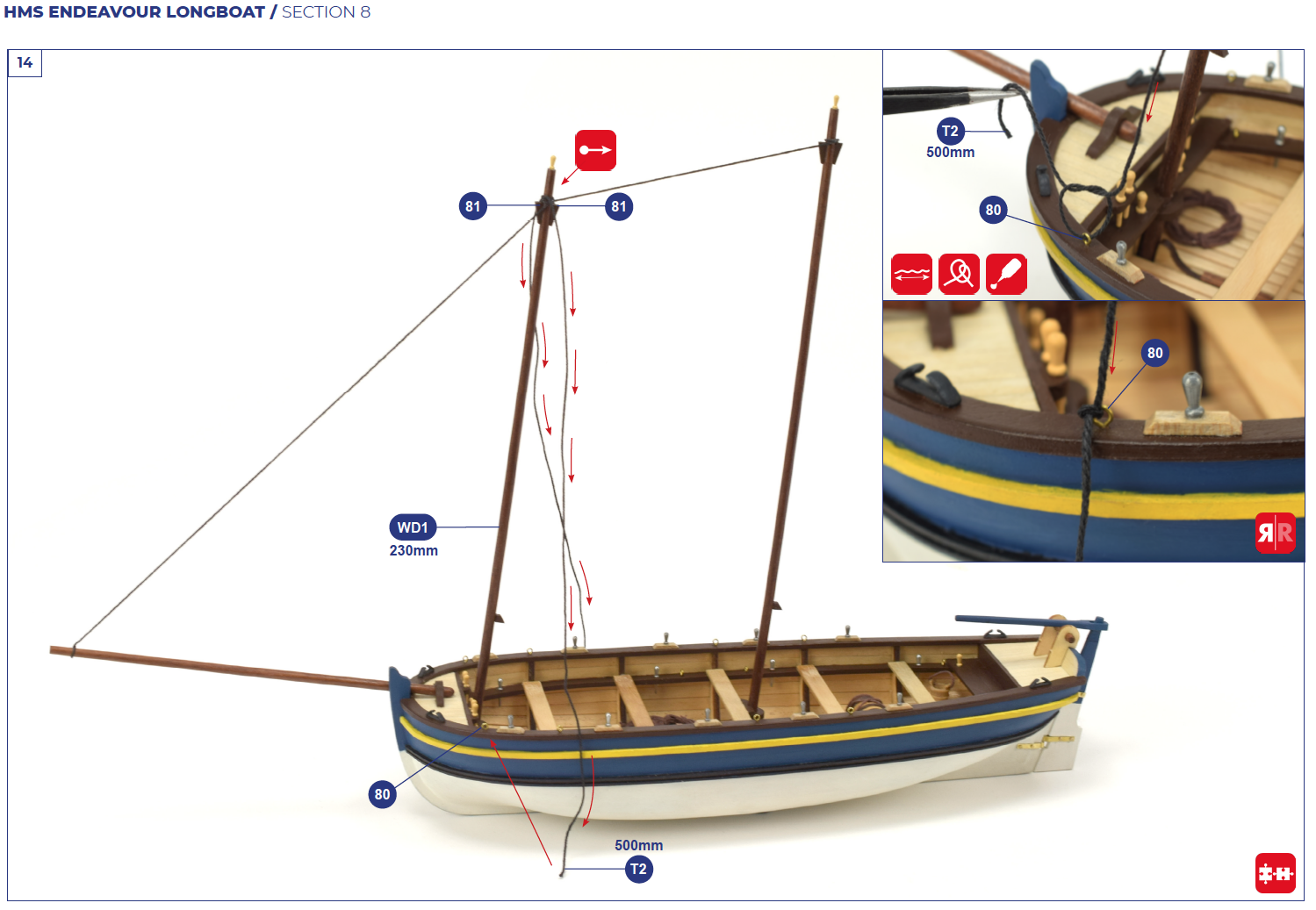 About basic modeling tools for the construction of this model, we recommend the following ones.
Once it is built, using your tools and expertise, supported by DVD instructions, the model measures 16.53" (420mm) length, 3.54" (90mm) width and 10.63" (270mm) height. Another novelty you can find in the modeling kit of the HMS Endeavour Longboat Model (19005) is its exhibition base as a gift.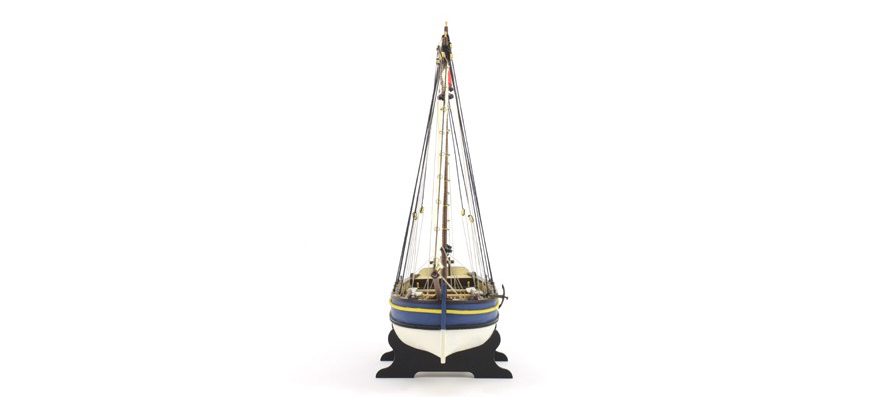 PAINTS AND FIGURINES FOR HMS ENDEAVOUR LONGBOAT MODEL
If you want to achieve the best and most reliable finishes, Artesania Latina offers -for sale separately- the Set of Paints for HMS Endeavour Longboat (277PACK7). It serves both for the replica of the Captain's Longboat and for the British ship HMS Endeavour. It is made up of 9 jars of 20 ml pots with fast-drying acrylic water-based paint in as many colours: off-white, off-black, bright red, royal blue, deep yellow, buff, cocoa brown, burnt umber and gold. They are perfect for use with airbrush although they can also be used with brush.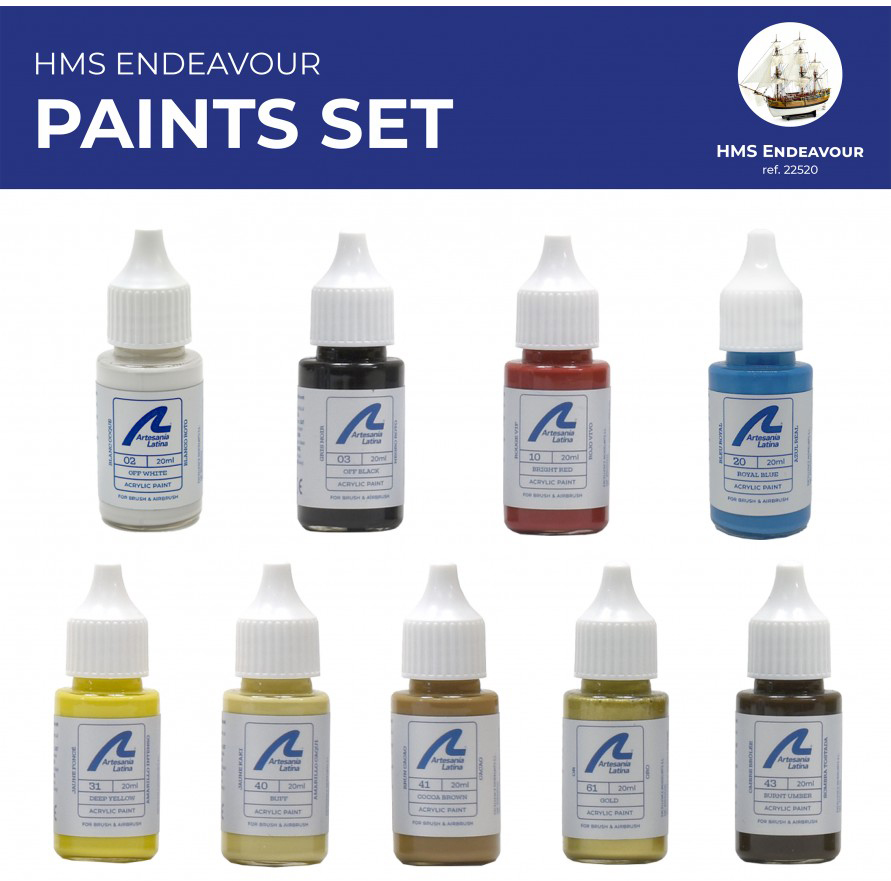 Another of the extras -for sale separately- both for the model of HMS Endeavour (22520) as for your Longboat (19005) is the Metal Figurines Set (22520-F).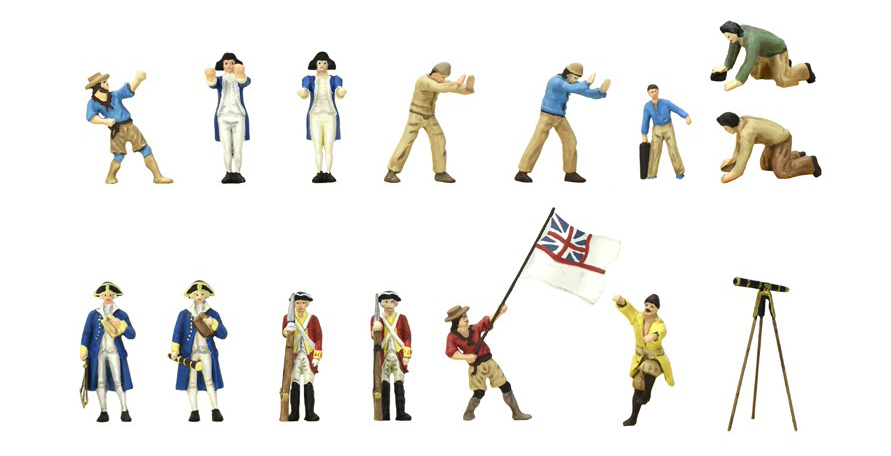 In short, the renovated in 2022 wooden model of HMS Endeavour Longboat at 1/50 scale (19005) has a high quality that meets expectations and demands of modelers. If you want to start on ship modeling or if you want to complete your HMS Endeavour model exhibition, build it with us! An indispensable artwork for your collection! Discover all the contents of the kit on the video below: