This week we continue with the second part of the post that talks about the functional cutting tools for modeling and crafts made by Artesania Latina. This time, we leave the world of cutters to immerse ourselves in the world of saws, guillotines, miter boxes and scissors. All these tools allow you to make deeper, more difficult and more precise cuts even than cutters, so let's get to know them all.
We start with the very useful Cutting Saw Blade with Ergonomic Handle (27042), to which the modeler can also attach our cutter blades. But the most important thing about this cutting tool is that if you use it together with the Anodized Aluminum Miter Box (27031) you will be able to obtain precise cuts of 45º and 90º. Rods, slats and other pieces will not resist the precision of the cuts. They are essential on, for example, the construction process of ship models and other types of vehicles and objects. On the video below one of our modellers shows you how to use both tools.
The blade of the saw is fine-toothed to achieve that exactness in the cuts, which is further increased with the miter box. Use both products on materials such as wood and plastic, among others. Both the saw and the miter box are made of high quality metal. We appreciate modeling and offer the highest standards to our client friends.
CUTTING TOOLS: MICRO SAWS AND MICRO MITER BOX
If you want to work in smaller spaces, with smaller parts and in complicated positions, we recommend our Micro Saws Set (27302). In addition to six different mini saws, it comes with two cyanoacrylate applicators and a scriber. Do you want to know what these cutting tools are like and how are they used? Take a look at the video below.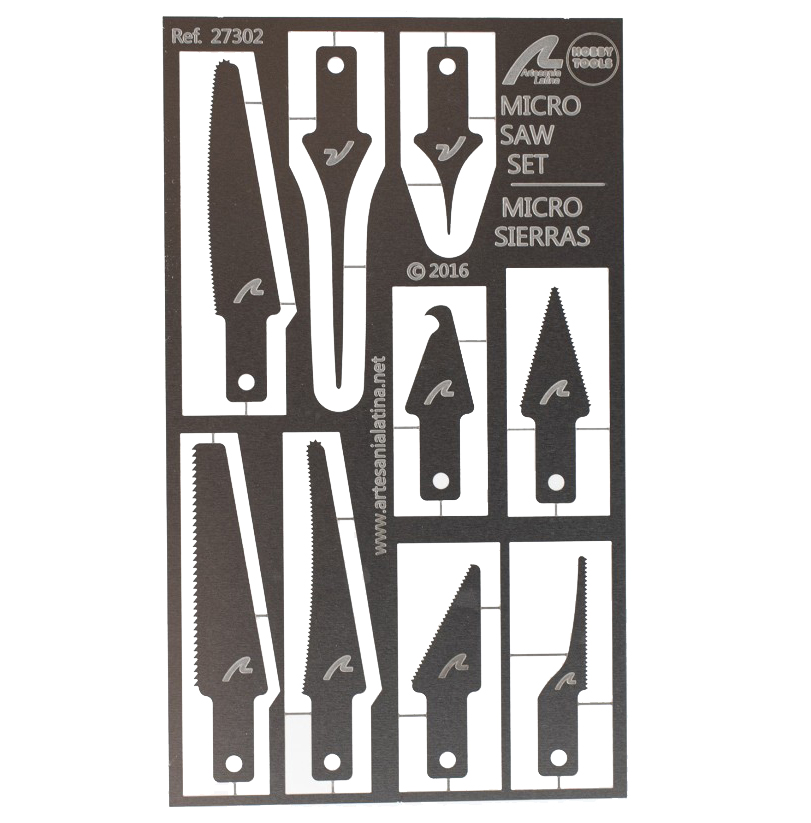 Also belonging to the magnificent collection of small modeling tools called Micro Tools, another one for the cutting action. We refer to the Micro Miter Box with Precision Saws (27303). If you need to work with smaller pieces of wood and/or plastic, it is the ideal cutting tool. Comes with a MD base to prevent scratches on your work surface, two saws, and the miter. The metal elements are made of high quality stainless steel.
Have you been wanting to discover other small tools for modeling? No problem, here is a video where you can see the complete current catalog.
CUTTING TOOLS: GUILLOTINE OR  MULTICUTER SET
Perhaps the most useful cutting tool for modeling and crafts: the Vertical Guillotine or Multicutter Set (27004). It allows cutting many more materials such as sheet, rubber, cardboard, paper, plastic and, of course, wood. All cuts with the shape that is required. It has an adjustable cutting angle that goes from 45º to 90º. In this way, the modeler can create miter joints, moldings and cut the ends of the strips with the angles it is needed.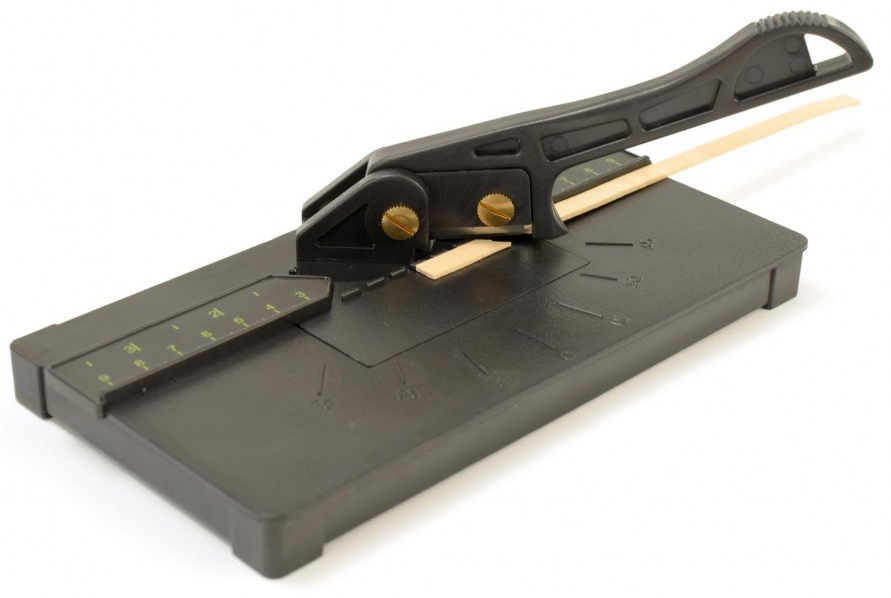 JAPANESE STYLE THREAD SNIPS
One of the essential cutting tools for model building, sewing and crafts. Specifically, even more essential for naval modeling. This is so because the Japanese Style Thread Snips (27060) is used to cut threads and fabrics on the rigging construction of any model ship with sails. The modeler who wants to assemble the sails comfortably must have these scissors at her/his workshop. For sewing tasks it is also very comfortable and effective!
After this last one, we have just shown you all the cutting tools made by Artesania Latina. If you want to see the cutters that we have, do not hesitate to read the first part of the post. Your modelling workshop (27648) must have all these tools to facilitate your work on this wonderful hobby of modeling!