How necessary are the crafts and modeling tools to measure! If the modeler or lover of other hobbies wants the assembly process and creation to be precise and everything fits perfectly, they require them definitely. Artesanía Latina has a catalog of these tools with the largest quality for our customer friends. Let's get to know them, because they are essential if we do not want to reposition parts, to avoid errors in measurements.
MODELING TOOLS TO MEASURE: 150 & 300 MM STAINLESS STEEL RULERS
The basics at any modeling or craft workshop: the rulers. We start with the two normal stainless steel rulers, they will last a lifetime. The first of them is 15 cm or 150 mm length (27069), 13 mm width and 0.5 mm thickness. It is used more in tasks of smaller measurements such as parts of round dowels, masts, strips, wings, chains and an endless number of elements.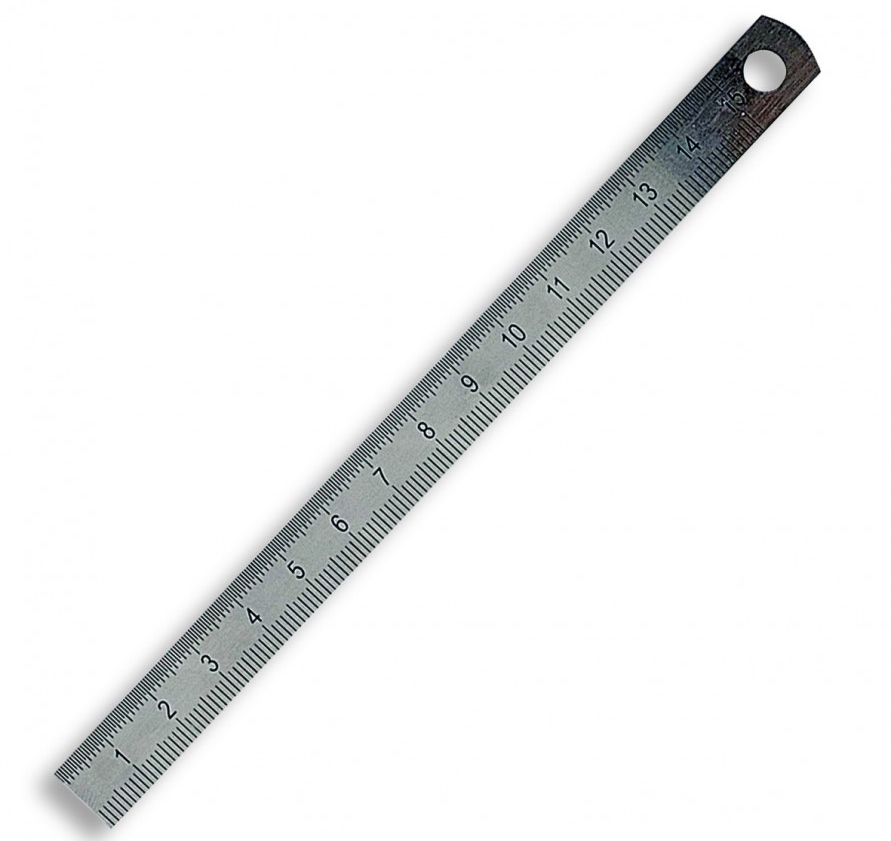 The second of the normal rulers is larger thanks to its length of 30 cm or 300 mm (27070), width of 19 mm and thickness of 1 mm. Both rulers have a hole at one end so they can be hanged when they are not in use. In this way, you can keep organized your modeler's workshop (27648).

MODELING TOOLS TO MEASURE: MICRO CENTERING RULER
One of the recent novelties of our firm in terms of measurement for modeling and handicrafts is the wonderful and super useful micro centering ruler (27326). Its length is 20 cm or 200 mm -10 cm or 100 mm on each side-. Also made of stainless steel, it makes it easier to find the center of the parts exactly to achieve a more effective assembly of these ones. With metric and imperial measurement system, according to the needs of the modeler. As can be seen on the images, this centering rule places 0 in the center and the numbering grows towards both sides.
How to use it? Place it so that the measurements coincide at the edges, and the 0 on the ruler marks the center of the part. The small existing points on the ruler allow the modeler to mark measurements with total accuracy, pointing through these with a mechanical pencil or pencil. Includes a protractor inside the ruler itself. More information about this measurement tool for modeling and crafts on the video below.
MODELING TOOLS TO MEASURE: MICRO RULERS SET
One of the top sellers of crafts and modeling tools to measure: the micro rulers set (27325). It contains two rulers (50 mm and 100 mm / 2 and 4"), two squares and a protractor, all of these made of high-quality stainless steel. Like the previous rulers, they also have holes to be hung.
On the one hand, the two rulers are flexible, ideal for working comfortably and easily with curved objects and scale models. They include measurements in metric and imperial systems. On the other hand, the squares, both with chamfered corners to avoid glue, are very useful when used as assembling brackets.
Do you want to know more about these magnificent small size crafts and modeling tools to measure? Pay attention to the video below.
PRECISE MEASUREMENTS WITH 6" / 150 MM DIGITAL CALIPER WITH CASE
The penultimate of our recommendations for modeling tools to measure by Artesanía Latina is the 6" / 150 mm long digital caliper (27057-1). Highly precise and easy to read thanks to its LCD screen, it is accompanied by a magnificent case for easy storage.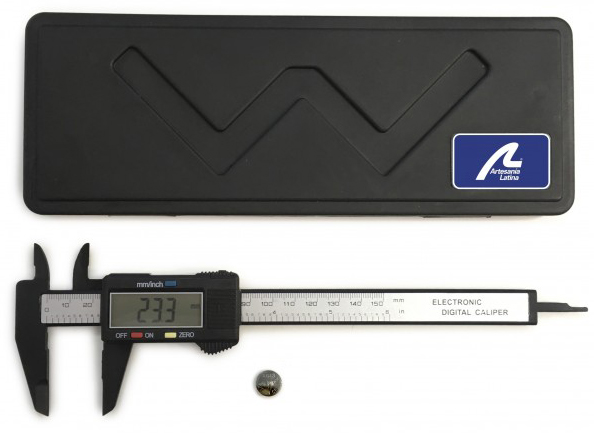 It allows you to take internal and external measurements of any part with a precision of +/- 0.1 mm, both in metric system as imperial. This digital and calibrated caliper makes it easy for the modeler to zero the tool on any position of the range, and it includes a 1.5v SR44/LR44 battery.
WATERLINE MARKER FOR MODEL SHIPS
Fundamental for naval modeling! The waterline marker for ship models (27649) is used to with the help of a pencil, mark that line around the ship, including measurements in both metric and imperial systems. To do this, hold the ship on its base or on the hull support (27011), sold separately. Roughly speaking, In general, it can be used as a scribe to mark lines parallel to the work surface. Assembly required.
Do you want to assemble your models or create other crafts on the first try without having to disassemble later due to measurement problems? Artesanía Latina offers you all the possibilities so that the construction and creation processes are impeccable, exact and concrete. Choose the measurement tools you need!