Buy modeling tools because it is essential for the construction of any ship model. The modeler should know that it is better to spend a little more money on quality tools than buying the cheapest ones on the market. If you choose this last alternative, you could suffer many unwanted setbacks. They are the best friends of the modeler, do not skimp on money in these ones. Good tools for naval modeling will improve the modeler skills, save time and effort, and keep the modeler positive attitude to any kind of challenge.

Like Artesania Latina modeling toolkits, these could be classified into three types: basic, intermediate and expert.
BUY MODELING TOOLS FOR BEGINNERS
The basic tools are essential to build any type of model, without these ones it would be like building a house without cement, concrete or bricks. We list them here: pliers with different shapes; carpenter's hammer with small ball; set of saws; chisel; cutters and blades; files; drills and drill bits; electric plank bender or the hand one; rasp; needle threader; tweezers; rules, bevels and compass; awl; clamps and sergeants; sanding block and sandpapers; brushes; metal brush; scissors; vise; glue (cyanoacrylate) or white glue; nailer; pins and nails.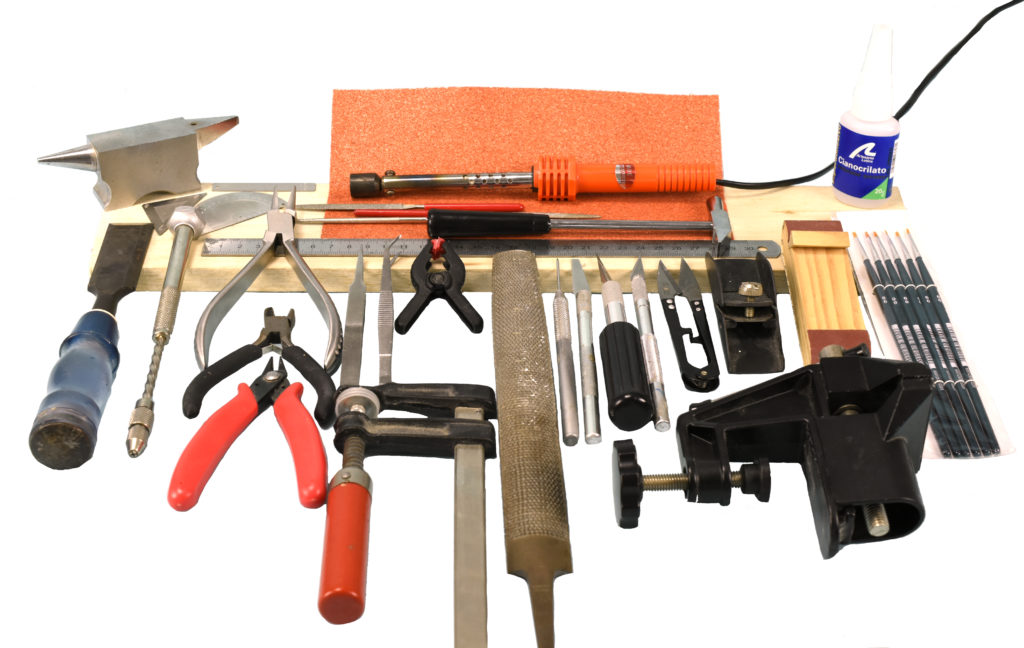 MODELING TOOLS FOR INTERMEDIATE LEVEL
Buy modeling tools for intermediate level will enable you to work better, especially in more difficult scale ship models, but you must make a greater investment, so if you want to try models of that skill before spending a large amount of money on these tools it would be a good idea: electric drill – better with speed modulator-; electric soldering iron; miter box for cutting; rotary table; waterline marker; universal bench screw; magnifying glasses with LED light and without it; hull support; cutting template for the cover and template for the rigging – not necessary on Artesania Latina models-; and brackets for precision drilling.
BUY MODELING TOOLS FOR EXPERTS
Speaking about the modeling tools for experts – if the model is built from 0 without any modeling kit -, these ones require greater skills by the modeler: electric bench sander with disc and belt; electric bench grinder; lathe; mini vacuum cleaner; electric marquetry saw; and electric disc saws.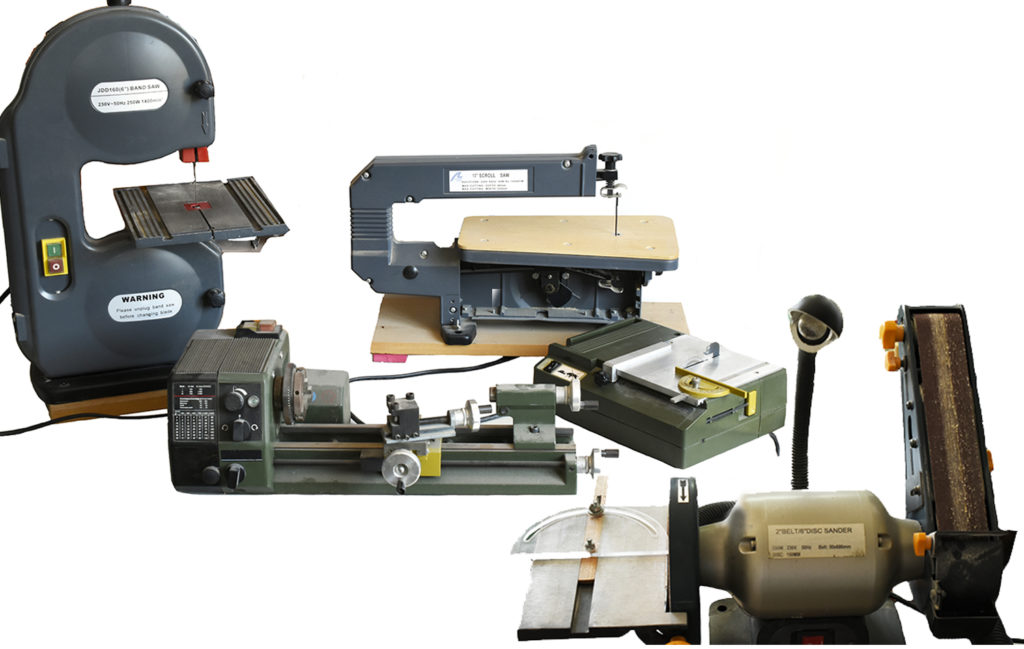 There are also specific micro tools or mini tools for modeling created by Artesania Latina that any modeler must have in the workshop. They are the Micro Tools: micro moulding scrapers / micro shapers, micro saws, micro rules and micro simulation template in wood, to which we will add two more, it will be a surprise!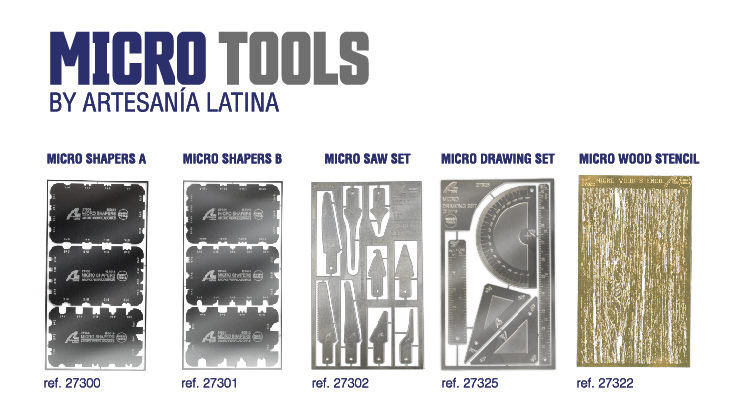 TOOLS ORGANIZATION AND MODELER'S WORKSHOP
It is time to organize all the modeling tools and create a workspace, so we will now talk about the modeler's workshop. This should be as large as possible to be able to build any size of ship model and to house all the necessary tools.
It is convenient that the modeler workshop also has drawers for storing, for example, small tools such as drill bits and blades, and tiny parts of the scale model that is intended to be built so that they do not get lost. You can place the drawers on the table at the ends or behind.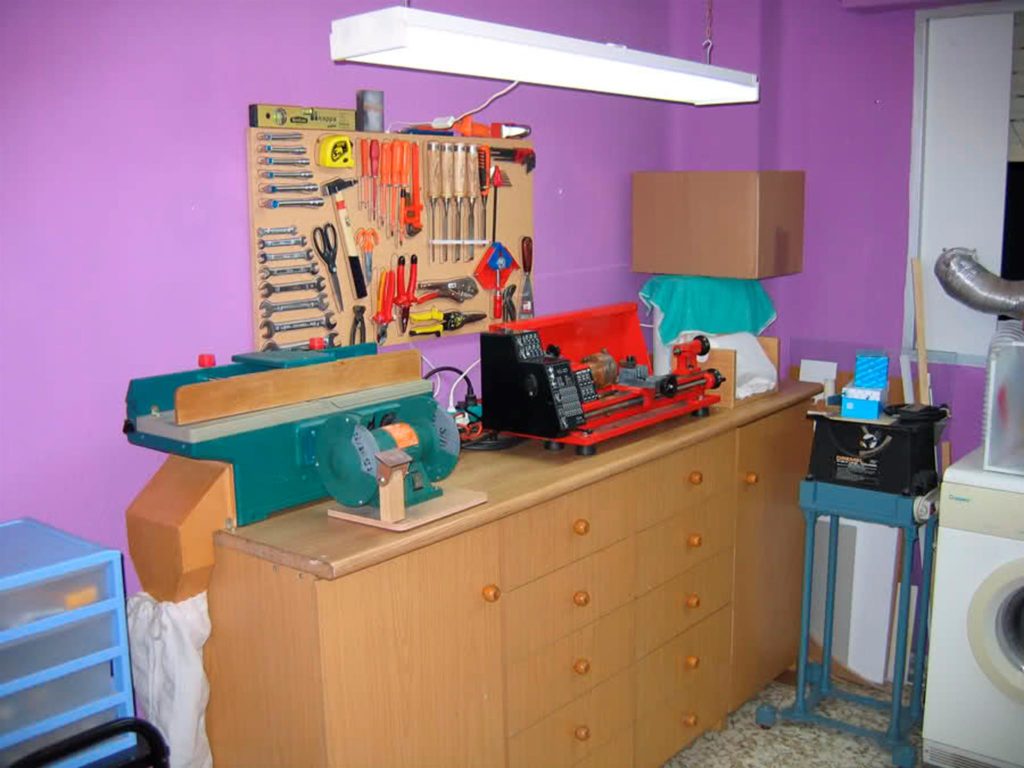 Or if you do not have these, we offer you another Artesania Latina's wonderful product: the Compact Modeler Workbench and the Paints Organizer.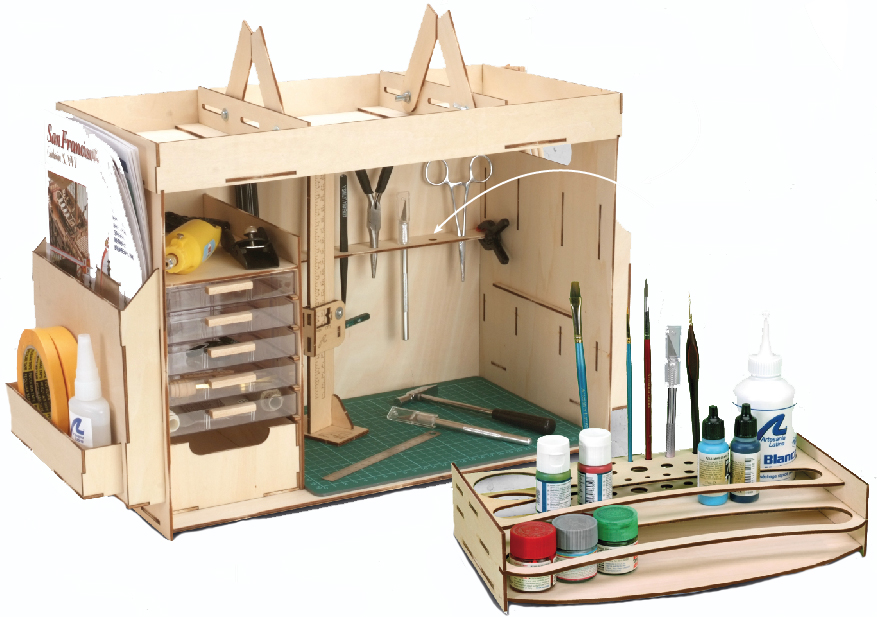 Remember, when you assemble your modeling workshop, arrange the plugs in front of you so that when you use the power tools, the cables reach your work area. Once the day is over, you can unplug them or disconnect them if you use a power strip with switch. Also, on the front, hang in front of where your model is assembling the scale model planes, so you can continually consult any questions about its assembly.
PROTECTION AND GOOD LIGHTNING FOR BUILDING MODELS
It is also important that you protect your work table if you do not want to be full of grooves and holes in the future, therefore, use cutting mats such as these ones: sizes A2, A3 and A4, depending on your needs.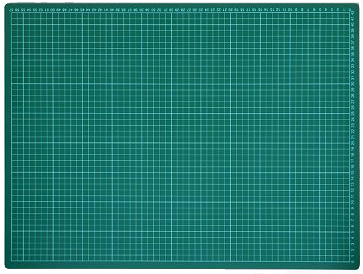 As for the lighting that the room and the table where the modeler works should have, we recommend that you put two white light LED bulbs of 12 watts on the ceiling, and as a direct table light a white light LED bulb, but in this case 2/5 watts. For this last lighting, we strongly recommend our reading lamp with magnifying glass, 60 white LED lights and three magnifications.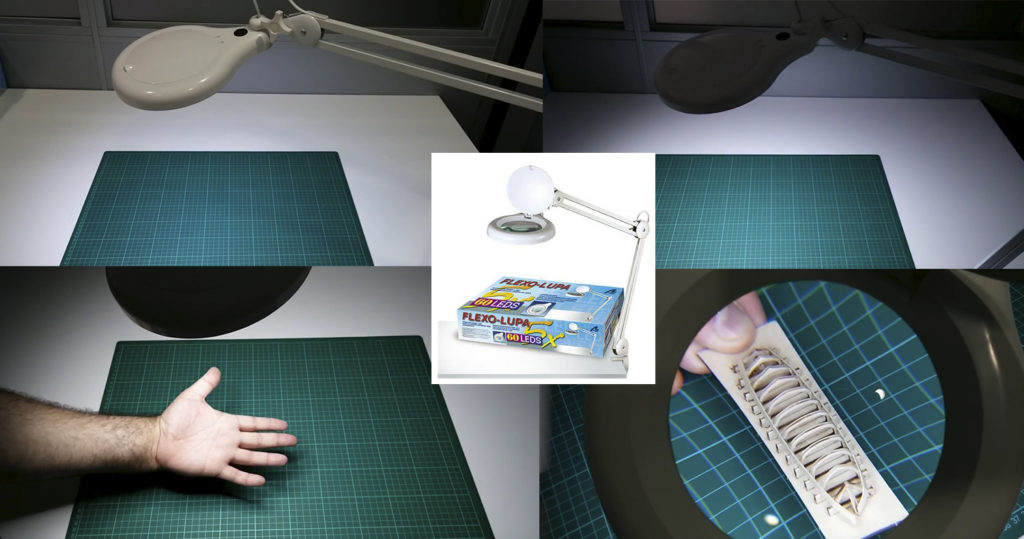 Optimum ventilation is essential when you are working at your workshop, keep in mind that you will continually use products with chemicals such as cyanoacrylates – glues -, white glues, varnishes, paints and solvents. If you are very far from a window, it would be convenient to put a fan, odors and fumes exhaust like those that are usually placed in the bathrooms near your mounting area.
Another need for the modeler's workshop, if you do not live alone, is the installation of a small sink for rinsing, because it is not good idea to clean the products in a place like the kitchen or bathroom if you live with more people.
Finally, a hung plank, facing the vision of the modeler, to place the tools you usually use would facilitate your work and save efforts. Live the ship modeling with us!
Read the first part of the post…