What is promised is debt! Artesania Latina team is pleased to present to all its modelers friends the first of the new scale models for 2022. The tuna boat model Marie Jeanne at 1/50 scale, the renewed wooden modeling kit of the French tuna vessel, aimed at those who own a intermediate level of skills. Without a doubt, our team of 3D designers and modelers set out to improve the assembly experience of this faithful naval replica… And they have succeeded!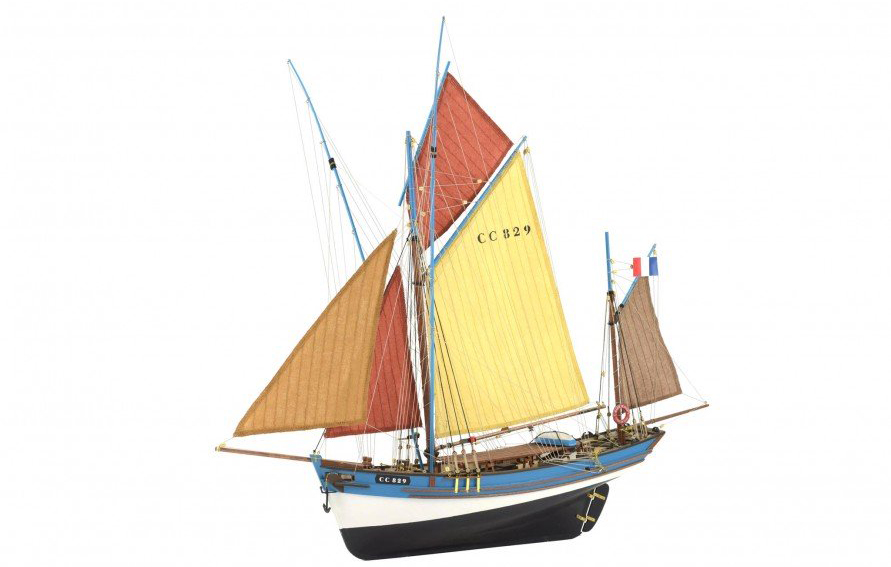 The presentation and high quality of the parts of the model, its instructions, its sails, its photo-etched parts, its wood… Everything has been redesigned so that the modeler is fully satisfied!
TUNA BOAT MODEL MARIE JEANNE: NEW HIGH QUALITY PARTS
How happy we are to show all the new elements of the tuna boat model Marie Jeanne at 1/50 scale, a true beauty of the naval modeling. We begin to break down all the news with the high quality parts that make up this fabulous wooden modeling kit. Suffice it to say that we ensure that all parts fit together perfectly. Besides that its level of detail is simply… Spectacular!
It contains beautiful, high-precision laser pre-cut wooden boards, noble woods such as birch strips and round dowels, and stunning photo-etched, brass, and cast parts. We found in the model of the tuna boat Marie Jeanne everything you need to build this naval miniature at your modeling workshop. And, above all, to take it to the next level with the aforementioned photo-etched parts, how wonderful!
Regarding the sails, speechless too! This wooden modeling kit comes with a set of 5 sails made of cotton, cut and sewn ready to be placed. It also comes with the French flag in sticker format. The Gallic fishing ship model is perfect for beginner modelers who want to take their first steps in the construction of rigging.
TUNA BOAT MARIE JEANNE: VERY DETAILED INSTRUCTIONS
The instructions for the assembly of the Marie Jeanne tuna boat model (22175) are unbeatable. Renewed and highly detailed, they will help you to perfectly build the scale model of the French fishing ship. They come on DVD multimedia format for computers -Windows and Mac-. Now, we're including the paper ship plan this time. In addition, you can download the instructions for free at Marie Jeanne product sheet of the web.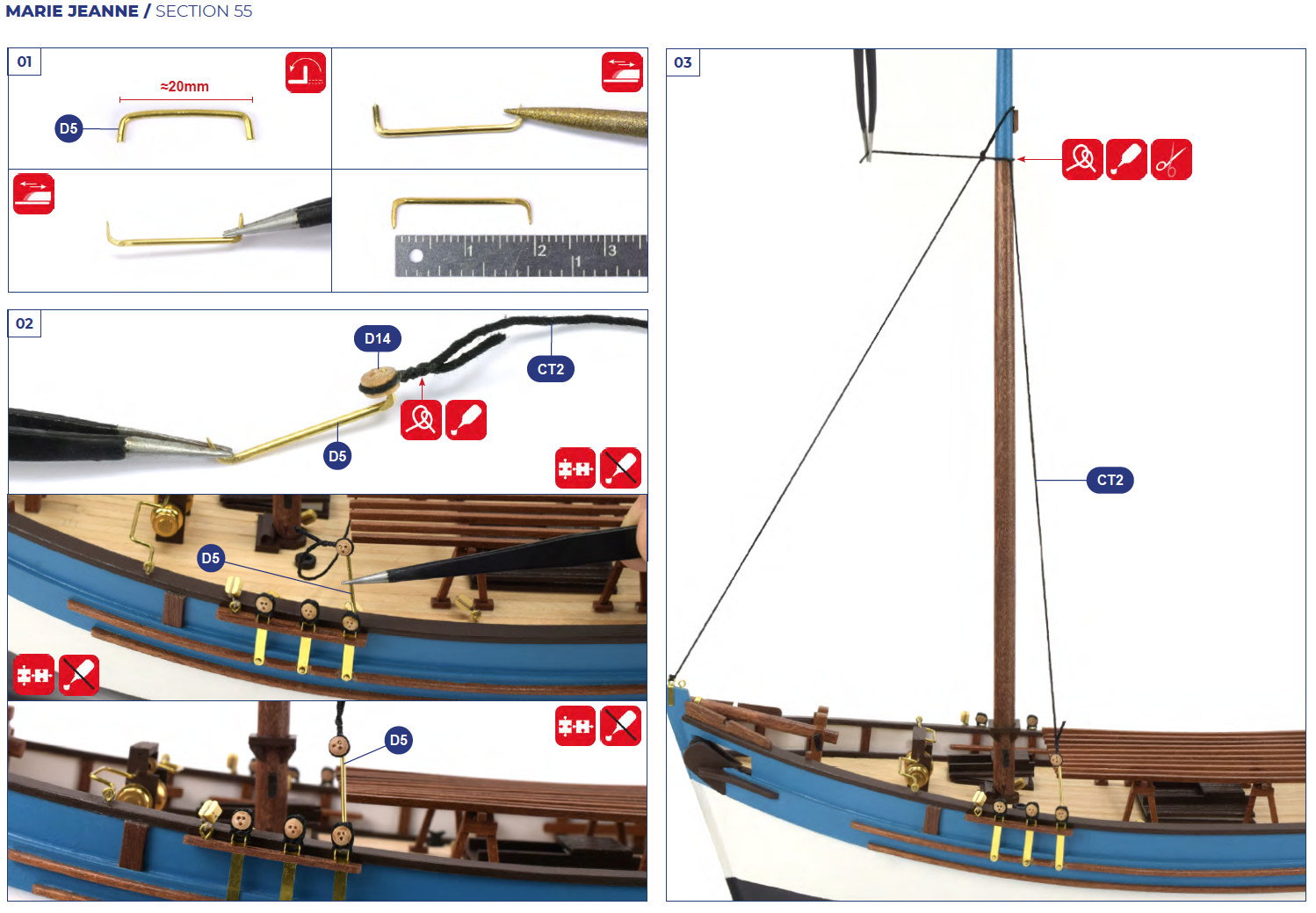 About basic modeling tools for the construction of this model, we recommend the following ones.
Once built, the Marie Jeanne wooden model measures 22.24" (565 mm) length, 4.52" (115 mm) width and 19.48" (495 mm) height.
PAINTS FOR MARIE JEANNE AND EXHIBITION BASE LIGHTNING
If you want to achieve the best and most reliable finishes, Artesania Latina makes available -for sale separately- to its friends the Set of Paints for Marie Jeanne (277PACK12). It is made up of 11 20 ml jars of quick-drying acrylic water-based paint in as many colours: off-white, off-black, bluff, cocoa brown, burnt umber, gold, vermilion, bright green, French blue, royal blue, and orange. They are perfect for use with airbrush although you can paint with brush. Of course, the kit includes decals to decorate the boat, to the delight of the modelers.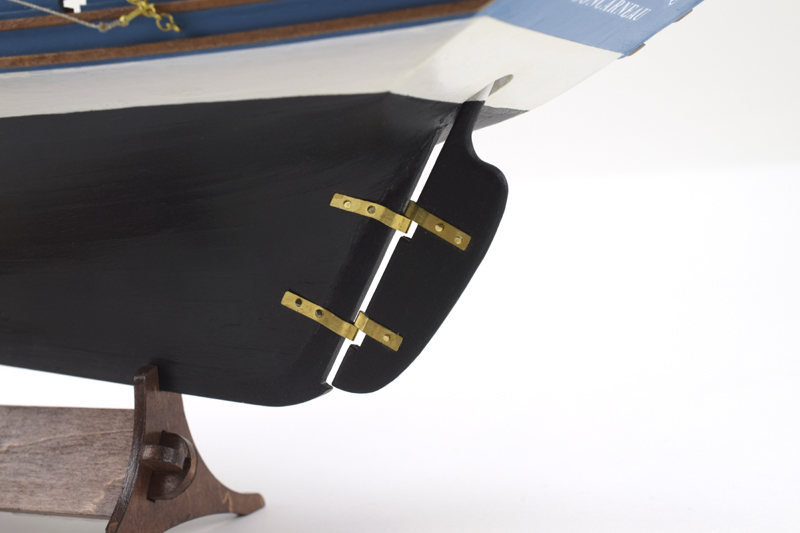 Another new in the modeling kit of the tuna boat model Marie Jeanne (22175) is that its base as a gift it is prepared so that it can be illuminated. How? With our LED Lighting Set for Models and DIY Projects (27590), sold separately.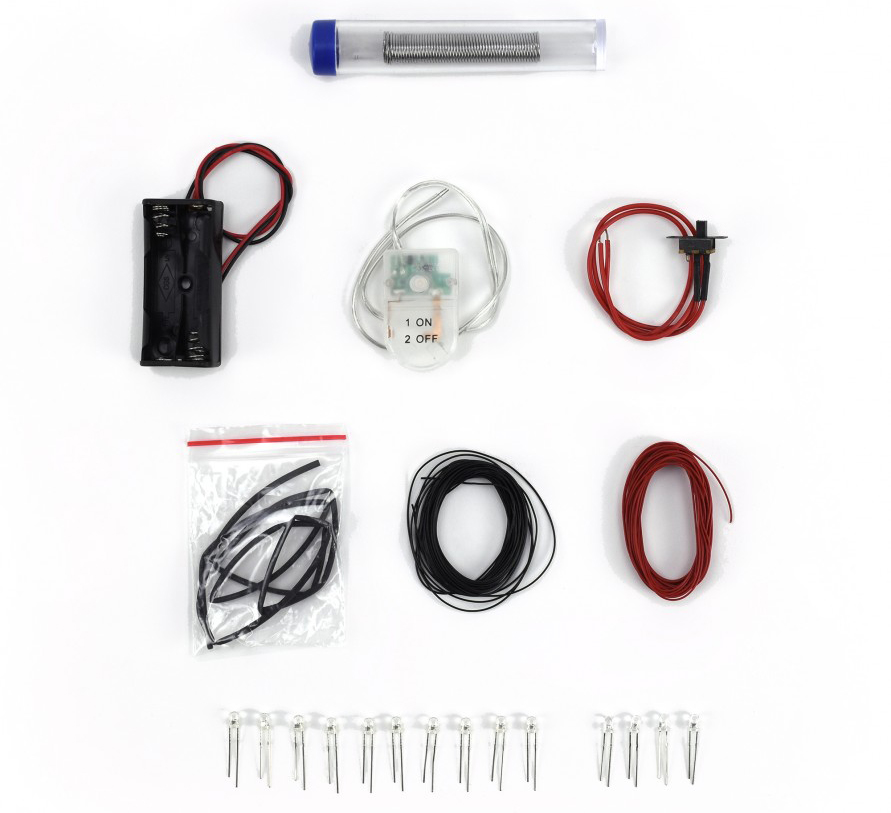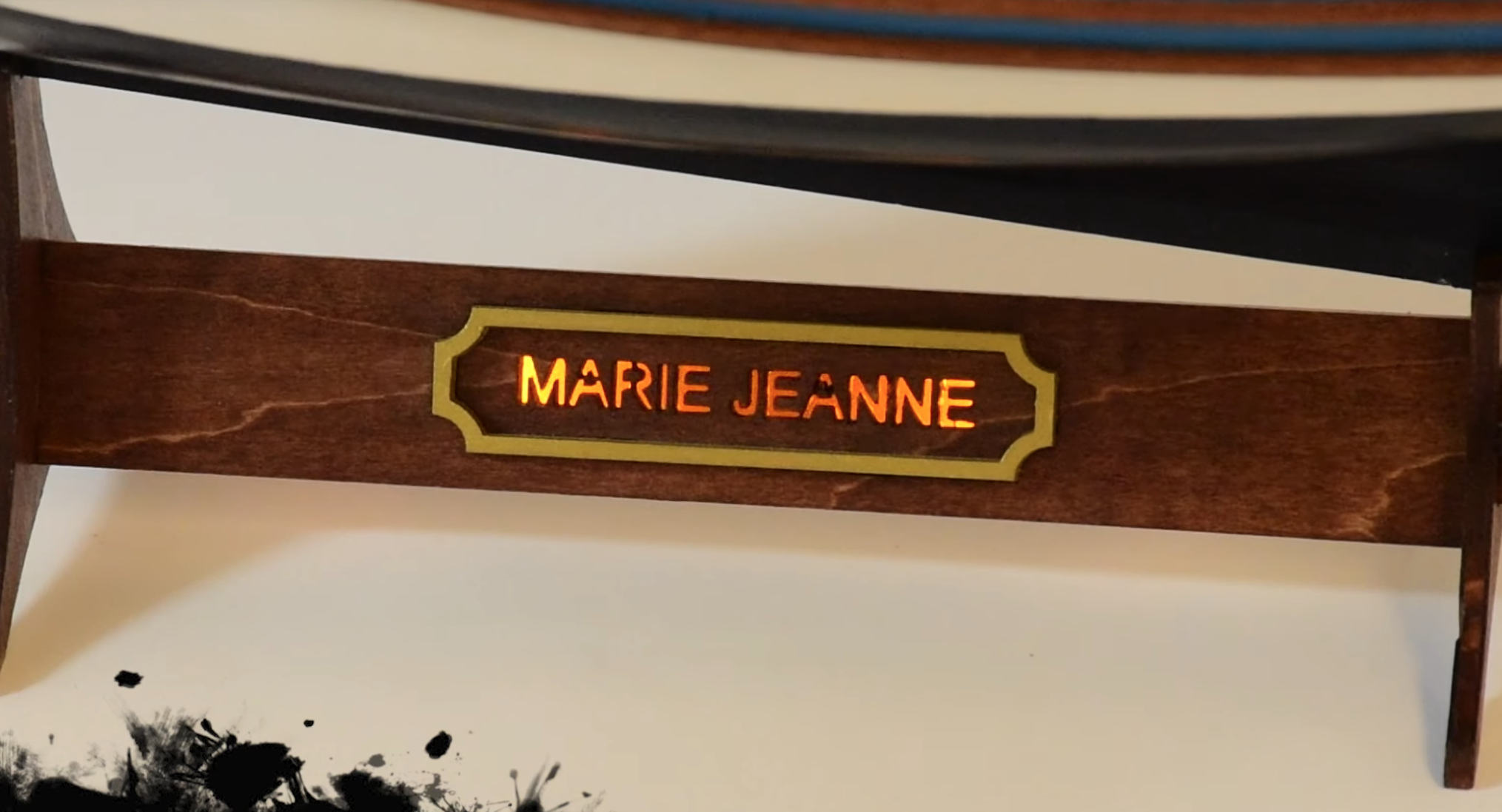 In short, the renewed in 2022 wooden model of the French tuna boat Marie Jeanne at 1/50 scale (22175) has a high quality that meets expectations and demands of the modelers. If you want a new naval modeling challenge or if you want to get started in the knowledge of sail construction, assemble it with us! Another little jewel for your collection that cannot be missed! Discover all the contents of the kit on the video below: