Prolific year this 2022 -that we are about to finish- for the creation and renovation of ship model building kits by Artesanía Latina's team. And we end… With another unbeatable surprise for our modelers friends! The renovated French corsair model ship in wood Le Renard (22401). At 1:50 scale, this faithful miniature replica of the Galic cutter is recommended for fans of this hobby with at least an intermediate level of skills and knowledge.
Due to this new edition, you will not be forced to create or manufacture any of the required parts, as was the case with the old one. In addition, we have the Official License of the Association Cotre Corsaire de Saint-Malo. Thanks to it, since 1991, a replica of the original boat still sails the seas and oceans. Chapeau for your work! So let's get to know the contents with which the corsair model ship Le Renard is assembled. The famous corsair Robert Surcouf, at the service of Napoleon, was in command of this.
CORSAIR MODEL SHIP LE RENARD: MODELING KIT CONTENTS
Le Renard cutter model was a sailboat with which attacked and seized the enemy commercial ships of France. Now it has improved contents. The model building kit contains all the necessary parts to build the corsair model ship. Its greatest achievement was defeating in combat the English schooner HMS Alphea in 1813. Its assembly system by means of a false keel and frames brings its construction closer to that of a real sailboat.
This reedition of the Le Renard naval modeling kit comes with board parts cut by high precision laser, birch wood, brass, cast iron and sails ready to be placed. Of course, the exhibition base with a metal plate is included so that you can display your model once finished.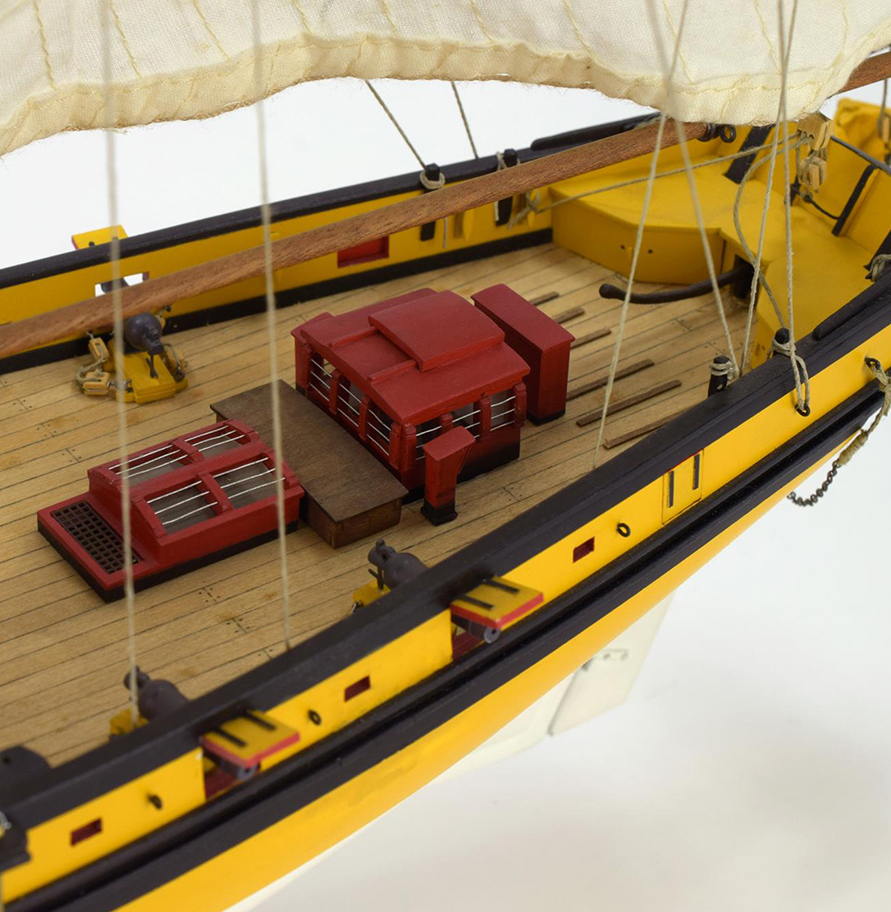 To achieve this goal, our modelers friends have very complete step-by-step instructions on DVD format for computers. In Spanish, French, English, Italian, Portuguese, German and Dutch. We also include all the explanations related to the simple and fun assembly of the rigging. Remember that printed instructions are not included. Also, you can download these instructions for free at Le Renard product sheet (22401).
Por cierto, cuando esto ocurra y quede ensamblada, la maravillosa maqueta del barco corsario galo medirá 615 mm de largo, 238 mm de ancho y 560 mm de alto.
CUTTER MODEL LE RENARD: LIFEBOAT AND CANNONS
You will be dazzled when you build it! Among other reasons, pay attention to the beauty and high level of detail, in general, and the lifeboat, in particular, of its stern, which will shine splendor.
What to say about its imposing and fabulous 10 cannons made of metal!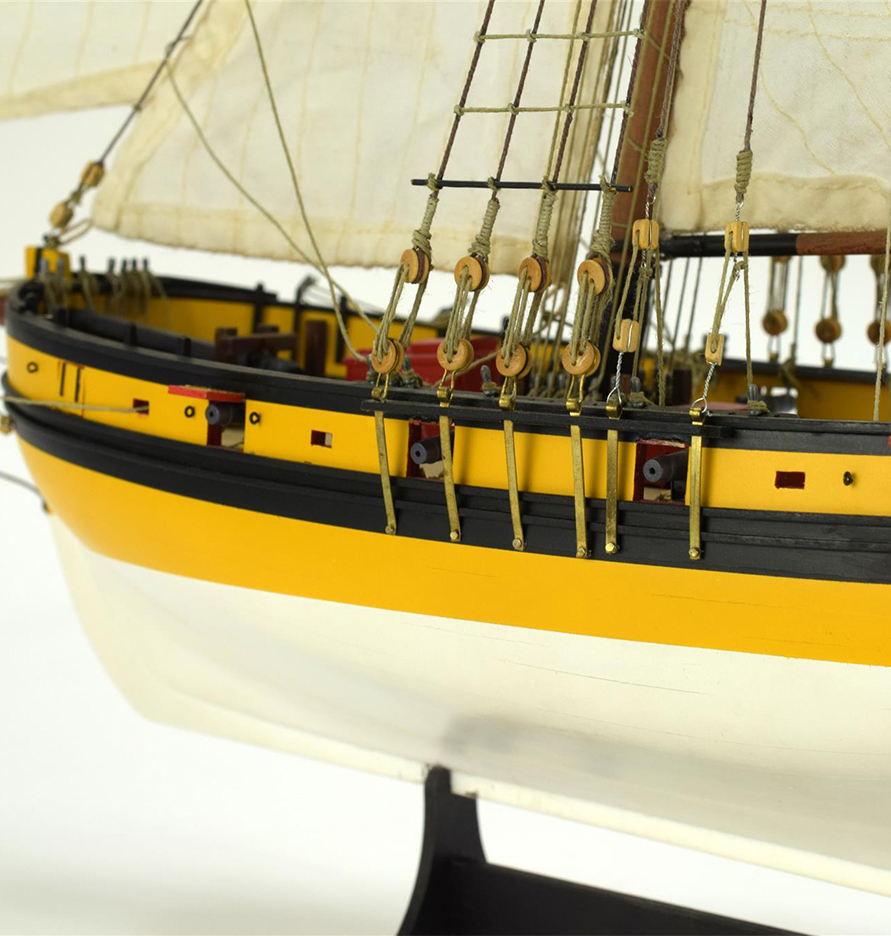 Get the best finishing with the new Set of Acrylic Paints for Le Renard (277PACK18). Water-based and quick-drying, your French corsair ship model will be much more realistic. Contains 6 jars of 20 ml each with the following colours: Off-White, Off-Black, Chequer Yellow, Burnt Umber, Vermilion and Bright Green.
In short, after more than three years missing in the 'Bermuda Triangle', the wooden model ship of the French corsair cutter Le Renard (22401) is out of darkness. It is already at Artesanía Latina's stores to the delight of the modelers who were waiting for it… And there are many of them according to the emails received! Go privateers, build your ship!