One of the most attractive and beautiful wooden ship models from Artesania Latina… Now renewed! Our 3D designers and our modellers have rethought the aesthetics and assembly of the American schooner model Virginia (22115) at 1:41 scale. So, the assembly experience for our modellers friends is much more pleasant, fun and simple. And what's more, we present this faithful miniature replica of the 19th century ship in a new box!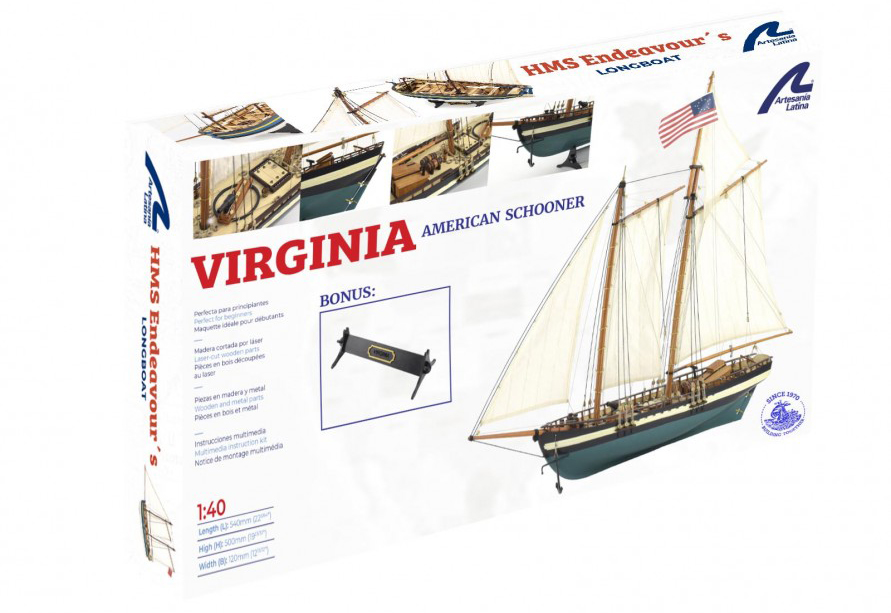 It is a beautiful naval miniature suitable for beginners modellers, although it will also delight the rest of the modellers, regardless of their level. Once it is built, the American schooner model Virginia measures 21.25" (540mm) length, 4.72" (120mm) width and 19.68" (500mm) height.
The Virginia is a type of vessel known as a 'schooner' launched in 1819, as we mentioned earlier. It was very fashionable, along with other small rigged boats, in the United States for its great speed, maneuverability and elegance. Precisely, these schooners were the germ of the US Coast Guard. Its objective? To comply with the new import and customs laws thanks, in addition, to its central rotating carronade and light weapons. It dedicated itself to controlling maritime borders in interception and pursuit missions of other ships that tried to reach its coast.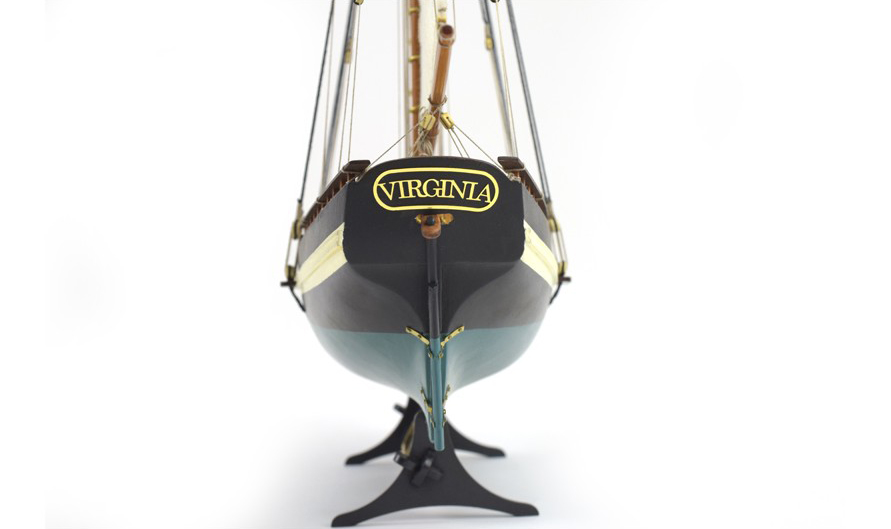 Let's check what are the magnificent contents that the wooden modeling kit of the American schooner model Virginia brings.
CONTENTS OF AMERICAN SCHOONER MODEL VIRGINIA
Renewed wooden naval modeling kit with the American schooner model Virginia at 1:41 scale. It offers the modeler high quality parts for assembly, they fit perfectly. In this sense, it is a joy to assemble this model with its high-precision laser pre-cut board parts and noble woods such as birch and sapele. Without forgetting its sewn sails ready to be placed, cotton threads and brass, cast iron and photo-etched parts.
On this renewed model we have implemented the assembly experience so that the construction process satisfies the modeller. On the old model, the assembly was more cumbersome. Now the American schooner model Virginia is assembled more precisely and more easily. The new and extremely detailed step-by-step multimedia instructions on DVD format for computers (Windows and Mac) help a lot.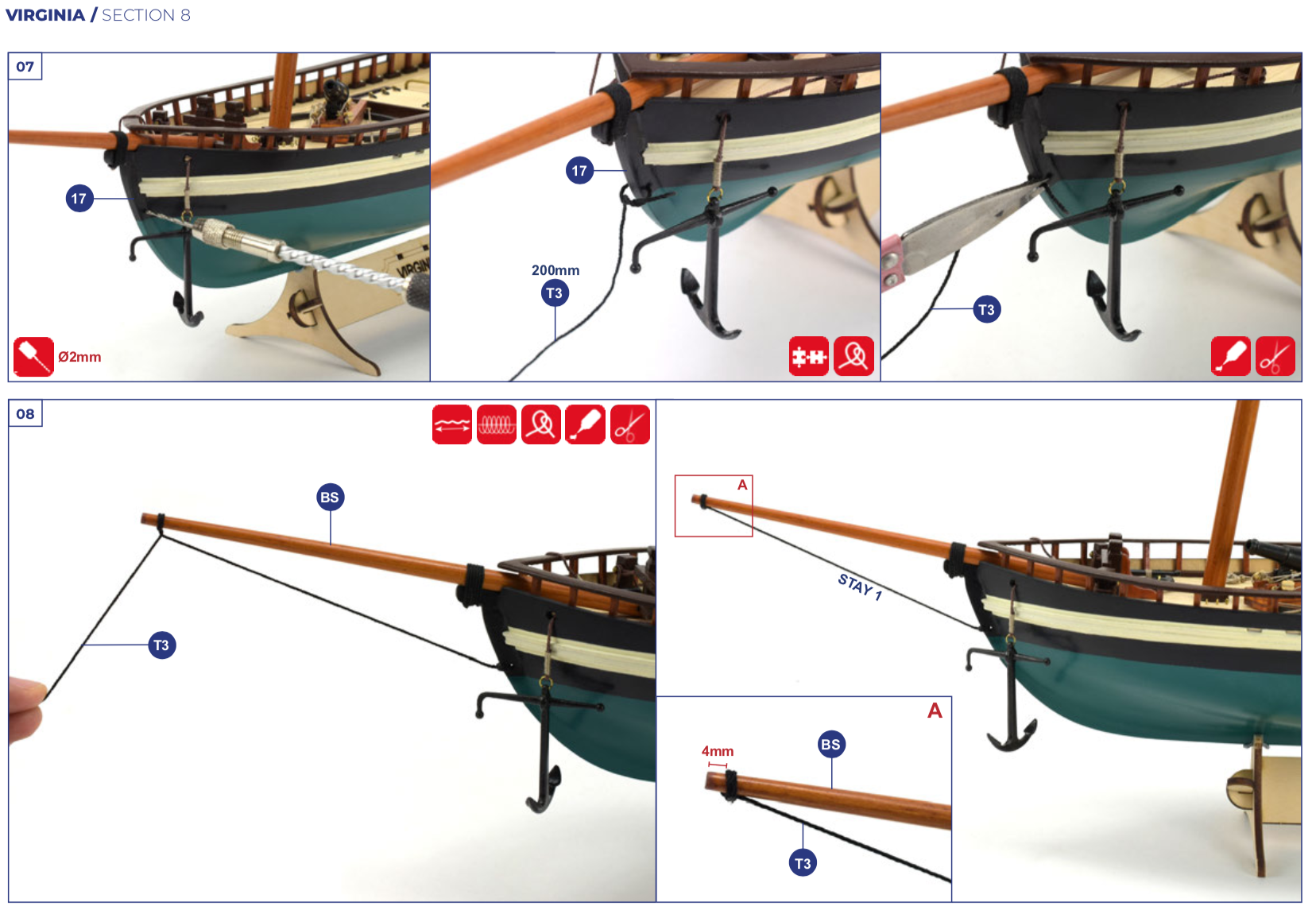 If you wish, you can also download the instructions for free at Virginia product sheet. We remind you that printed instructions are not included in the modeling kit to contribute to the environmental preservation of our planet.
As a bonus, the American schooner model Virginia includes wooden exhibition base to build and nameplate of the ship. Display your creation at your workshop, home or office alongside your ship modeling collection.
SPECIFIC SET OF ACRYLIC PAINTS FOR VIRGINIA SHIP MODEL
How to achieve the best finishes for the American schooner model Virginia by Artesania Latina? With one of the new sets of paints that we have created for the different naval models of our catalogue. In this way, you can now paint your own miniature with the Virginia Specific Acrylic Paints Set (277PACK21), for sale separately.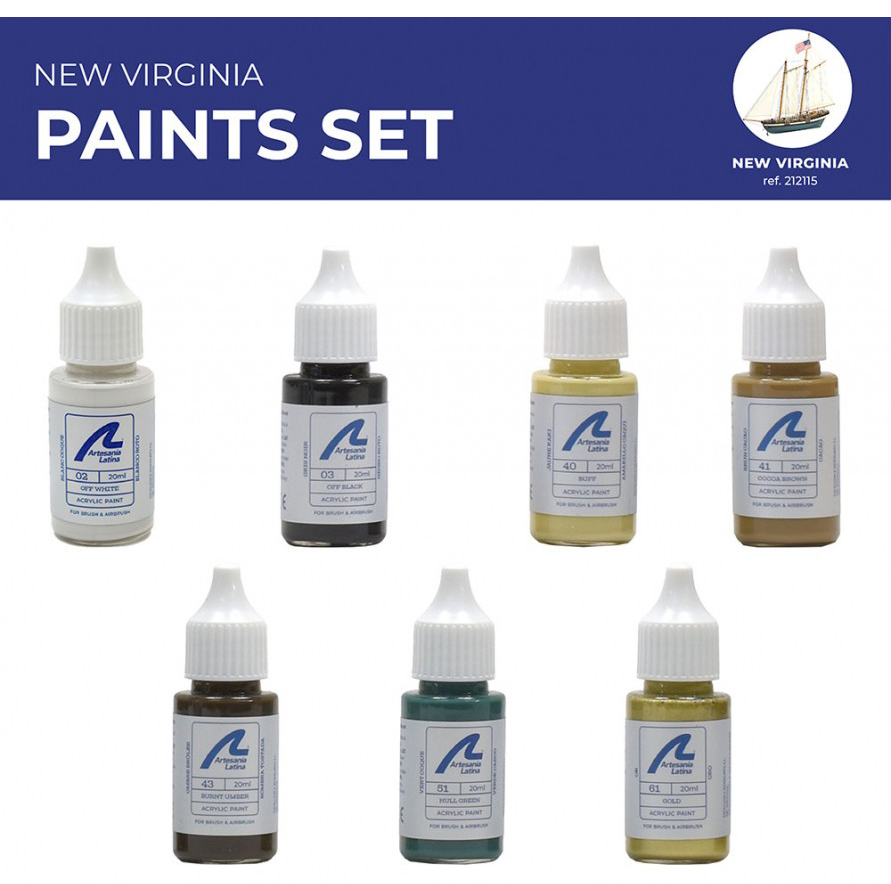 This set of water-based paints is characterized by its quick drying. It comes with 7 jars of 20 ml each with assorted colors. Off-White, Off-Black, Buff, Cocoa Brown, Burnt Umber, Hull Green and Gold. They are perfect paints for airbrushing although they can be used perfectly with brush.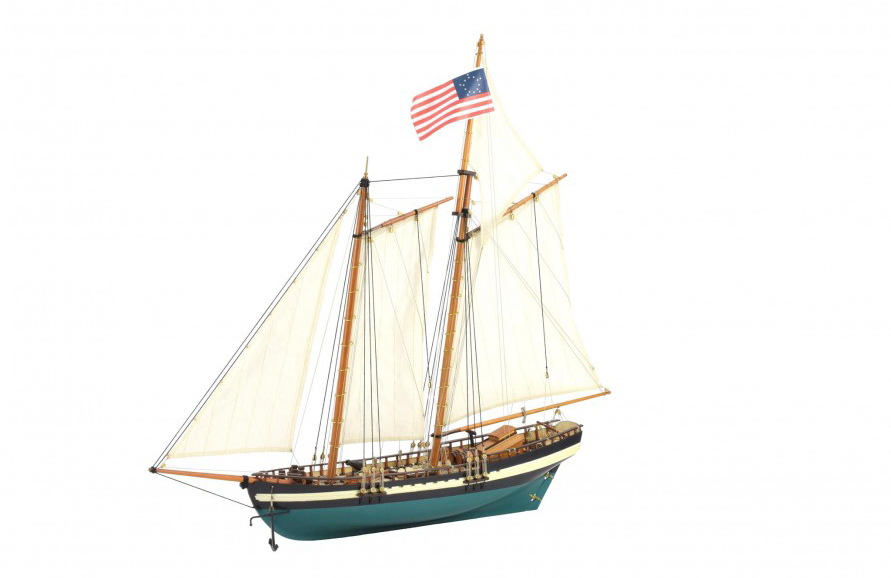 In short, the renewed American schooner model Virginia (22115) is a great choice for your next ship modeling. Assembly precision, beauty, great level of detail, parts of the highest standards, perfect finishes… Assemble it now!