One of the most beautiful traditional fishing boats on the market… Now with a lifting! The team of modelers from Artesanía Latina has designed and developed a new concept for the model of this French ship. Everything to make the assembly experience friendly, simple and fun. It is a great satisfaction to introduce to our modeling friends the new Saint Malo model ship (19010-N), the Gallic doris from the end of the 19th century. Your 1:20 scale fishing boat modeling kit is aimed at beginner modelers and, also, to those who want to complete their private collection of fishing boats.
SAINT MALO MODEL SHIP: WOODEN MODELING KIT CONTENTS

A naval jewel that will delight those who want to start in the wonderful world of naval modeling building your own new 1:20 scale model in wood of the fishing boat –doris class– Saint Malo. Some fishermen still use this type of boat today in the bay of Mont Saint-Michel on the Normandy coast, as well as in Saint Pierre and Miquelon to set trammel lines or lobster and shrimp traps. However, the vast majority of the doris used are intended for leisure. Artisan doris builders still exist today.
The renewed model ship Saint Malo… With an improved assembly experience that is much easier and more enjoyable! In addition, its assembly system using a false keel and frames brings its design closer to that of a real ship and will delight novice modelers who build this faithful miniature replica.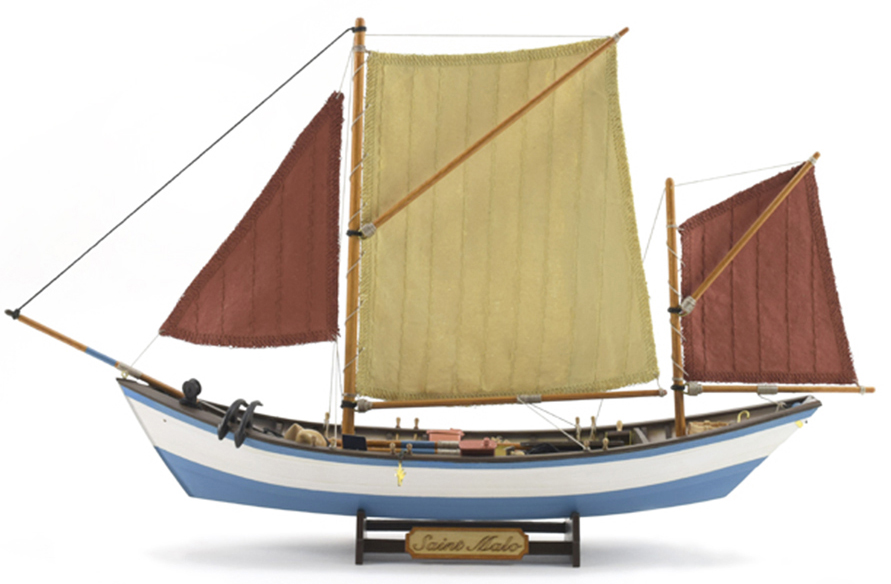 The renewed 2023 naval modeling kit with the model of the French fishing boat Saint Malo contains all the necessary parts for assembling this naval model. The box brings parts of board plates cut by high precision laser. It also comes with a set of strips, sheets and round wooden rods, accessories in die-cast, brass and wood, and a sticker.
It also brings a magnificent set of hand-sewn cotton sails ready to be placed and cotton thread.
As a gift bonus, beautiful wooden exhibition base to assemble with name plate of the boat.
STEP-BY-STEP GUIDE ON VIDEO FOR SAINT MALO'S ASSEMBLY
For the assembly of the model of the French fishing boat Saint Malo, you have our renewed and complete step-by-step instructions made by our modelers on video. As if it were an exclusive masterclass, we teach you how to build your model. You will enjoy the hobby of naval modeling even more and you will learn professional techniques. To do this, simply visit our YouTube Channel where you can find all the video tutorials. It does not come with printed instructions.
It includes printed boat plan and parts list. Once it is built, the model measures 13.58" (345mm) length, 3.54" (90mm) width and 8.66" (220mm) height.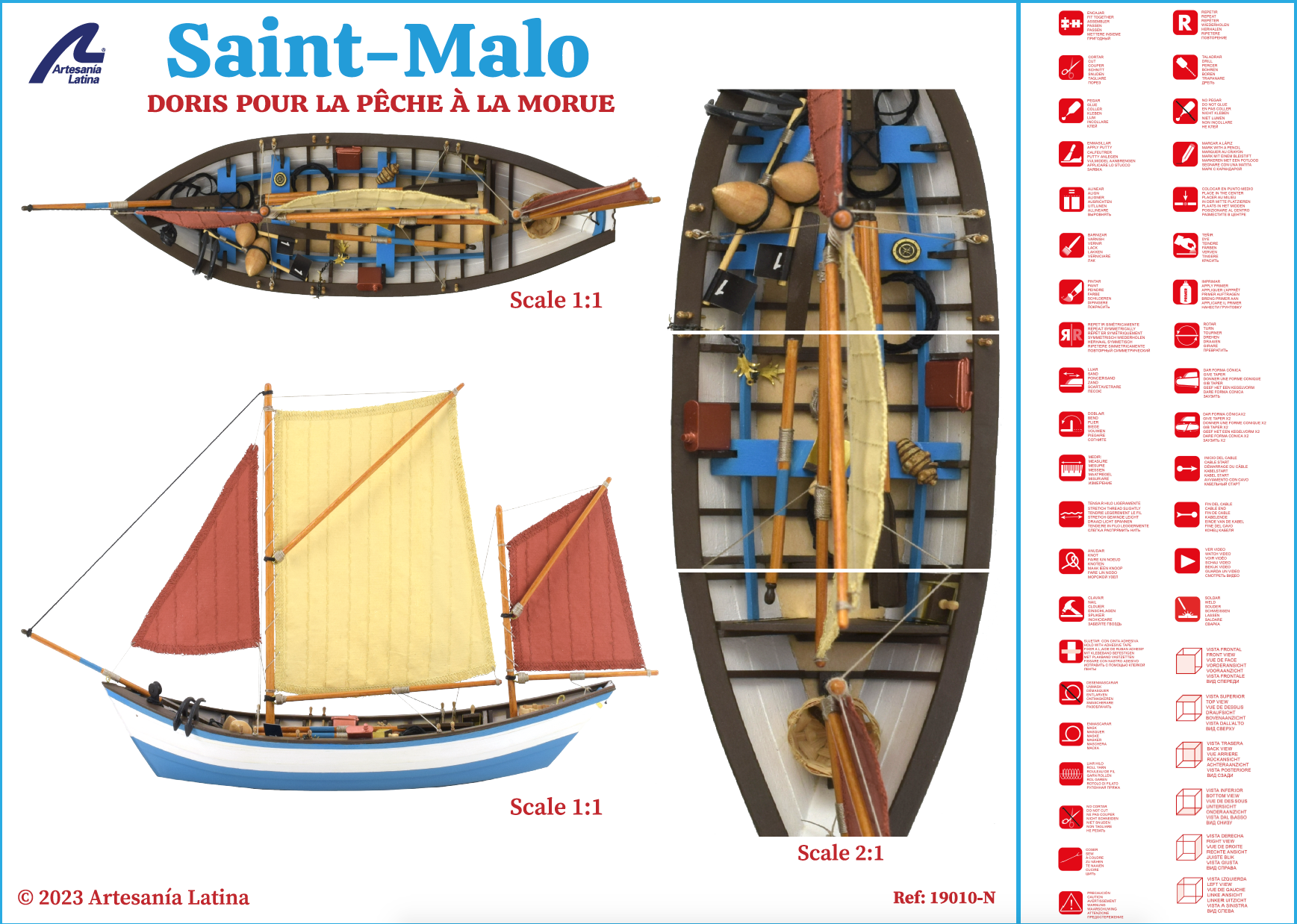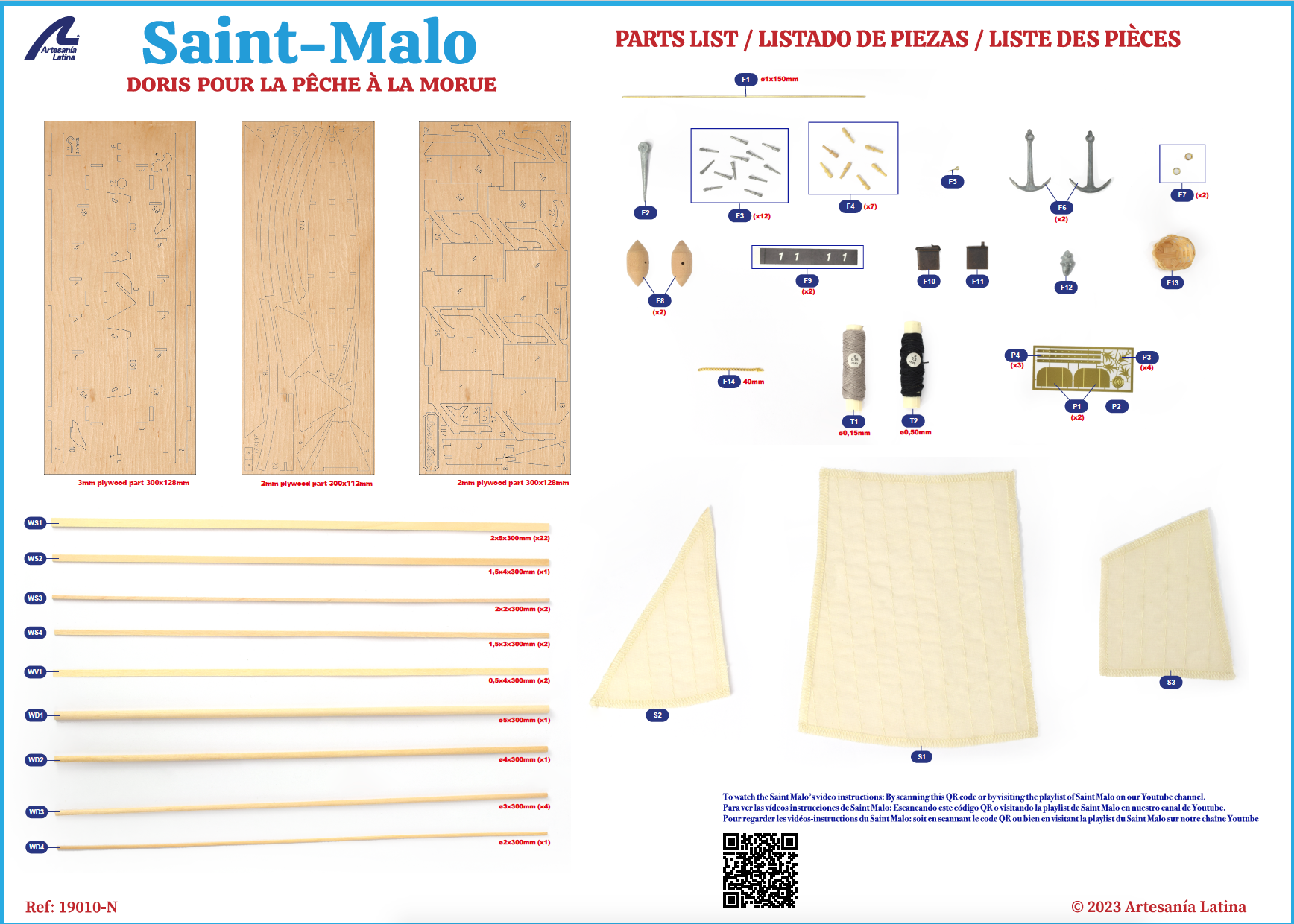 Thanks to the video below, you can learn about some of the modeling tools that you will need during the assembly process of the faithful miniature replica of doris Saint Malo.
SAINT MALO MODEL SHIP: ACRYLIC PAINTS SET
If you want to achieve a perfect and faithful finish, we recommend that you paint your Saint Malo fishing boat model with its Specific Acrylic Paints Set (277PACK24), for sale separately. This has 6 pots of different paints, each one with 20 ml of product. It includes the following colors in paints: Off-White, Off-Black, Buff, Burnt Umber, French Blue and Orange.
The drying time of the pack of water-based paints for the model ship Saint Malo is very fast. Paints dry to the touch in about 20 minutes and fully dry in an hour. If you need to give a second layer, you will only have to wait approximately 6 hours. It is advisable to apply a primer coat before to paint. The final result will be what your eyes see under these lines… Beautiful model!