Undoubtedly, one of the historical top sellers of Artesanía Latina, one of the models that most excites our modelers friends. The fishing boat model La Provençale (19017-N), the French voilier of the Côte d'Azur. It has been out of stock in recent months for a simple reason. We have redesigned and further developed the 1:20 scale model so that, in addition to having an optimal aesthetic appearance, your assembly experience is better, easier and more entertaining. It is a great pleasure for us to present you this renewed faithful miniature replica of the French fishing boat. The naval modeling kit in wood is aimed at beginner modelers and also those who want to complete their private collection of fishing boats.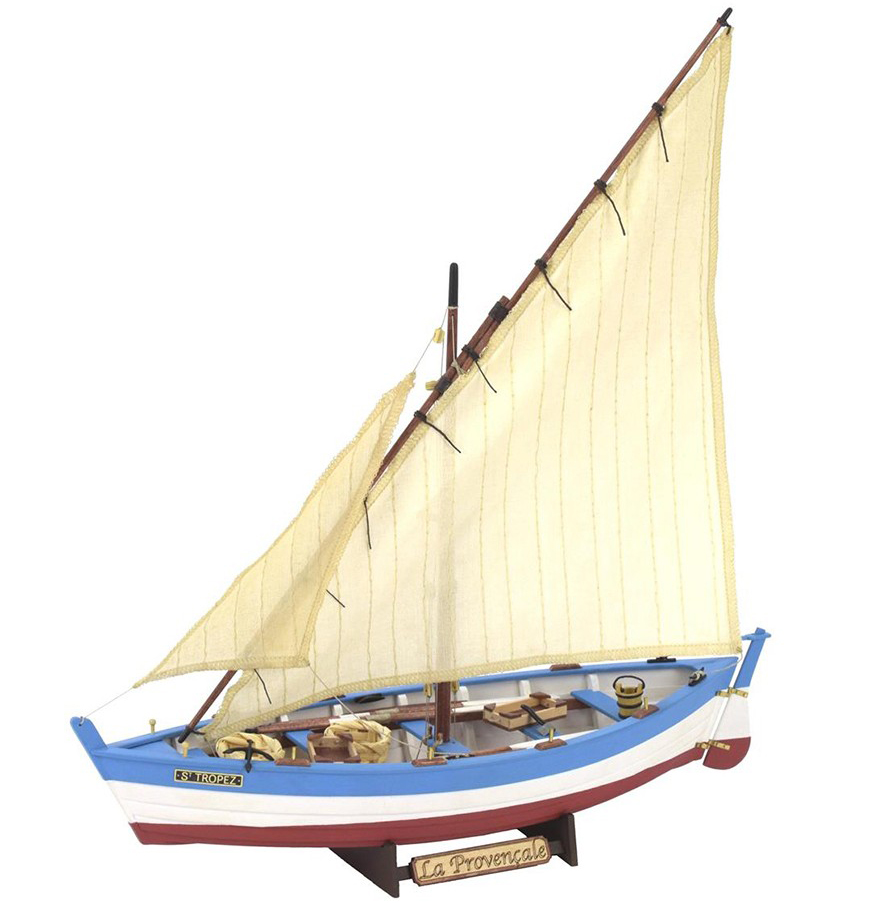 On the video below, we show you the appearance of La Provençale as well as some of the modeling tools that you will need during the assembly process of the faithful replica miniature of the Gallic sailing ship.
FISHING BOAT MODEL PROVENÇALE: WOODEN MODEL SHIP KIT CONTENTS

A naval jewel that will delight those who want to start in the wonderful world of naval modeling building your own new 1:20 scale model in wood of the fishing boat La Provencale. With a typically Mediterranean line thanks to its two latin sails, this boat used to be made with the remains of wood used for the construction of larger fishing boats.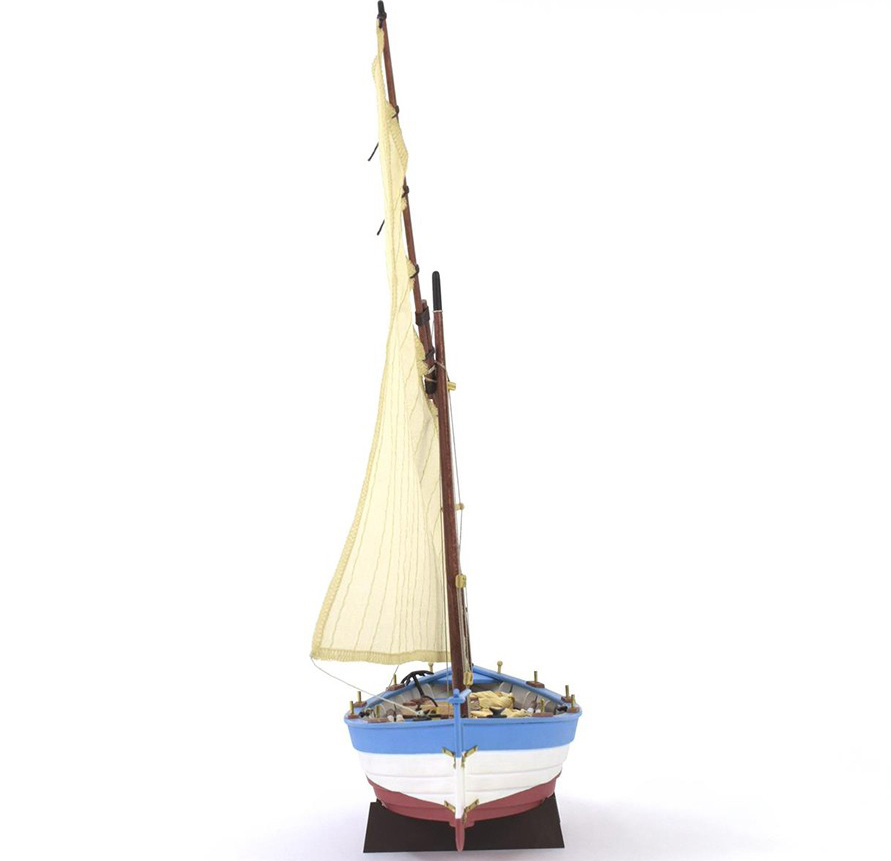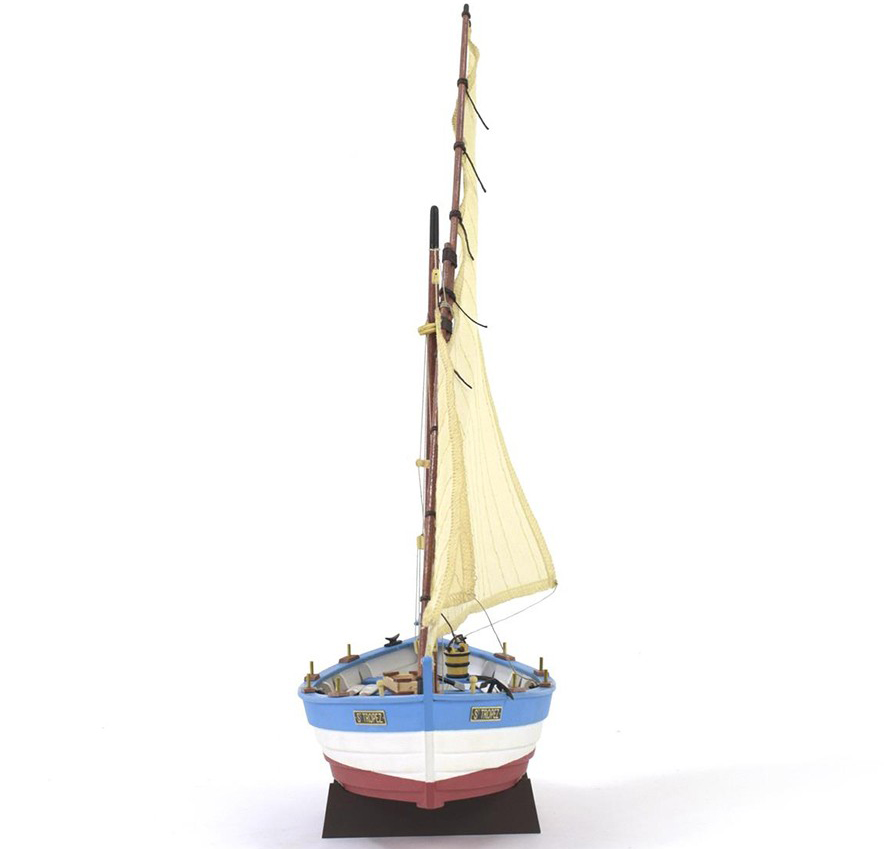 Renewed model ship La Provençale… With an improved, much easier and more enjoyable assembly experience! In addition, its assembly system using a false keel and frames brings its design closer to that of a real ship and will delight novice modelers who build this faithful miniature replica.
The 2023 naval modeling kit with the model of the French fishing boat La Provençale contains all the necessary parts for assembling this naval model. So, the box brings parts of wooden board plates cut by high precision laser. It also comes with a set of strips, round dowels and veneer, and with accessories in die-cast, brass and wood.
It also brings a magnificent set of hand-sewn cotton sails ready to be placed and cotton thread.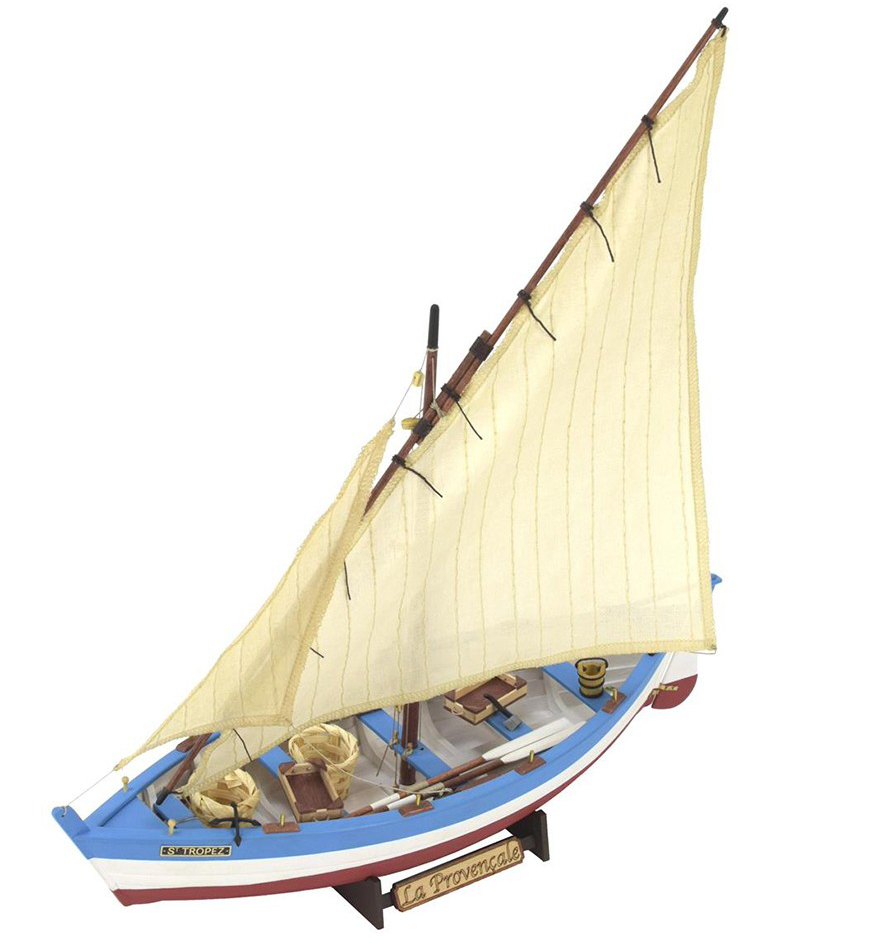 As a bonus, beautiful wooden exhibition base to assemble with name plate of the boat.
STEP-BY-STEP VIDEO GUIDE FOR THE ASSEMBLY OF LA PROVENÇALE
For the assembly of the model of the French fishing boat La Provençale, you have our renewed and complete step-by-step instructions made on video by our modelers. As if it were an exclusive master class, we teach you how to build your model. In this way, you will enjoy the hobby of naval modeling even more and you will learn professional techniques. To do this, simply visit our YouTube Channel where you can find all the video tutorials. It does not come with printed instructions.
It includes printed boat plan and parts list. Once built, the model measures 12" (305 mm) length, 13.98" (335 mm) height and 3.93" (100 mm) width.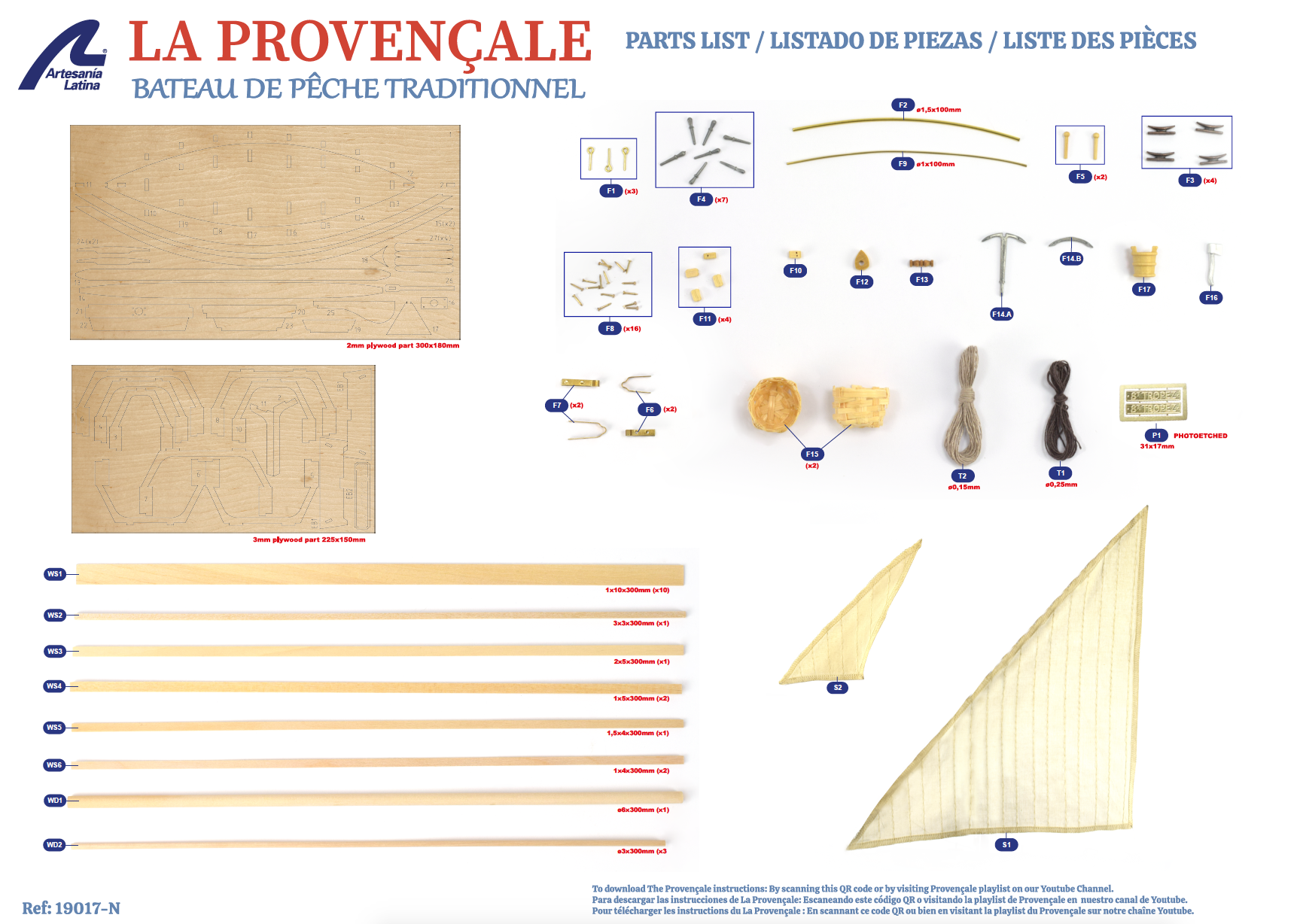 FISHING BOAT MODEL PROVENÇALE: SET OF SPECIFIC ACRYLIC PAINTS
If you want to achieve perfect and faithful finishes, we recommend that you paint your La Provençale fishing boat model with your Specific Set of Acrylic Paints (277PACK25), for sale separately. This has 6 jars of different paints, each with 20 ml of product. In this sense, it includes the following colors in paints: Off-White, Off-Black, Buff, Burnt Umber, Royal Blue and Red FS11136.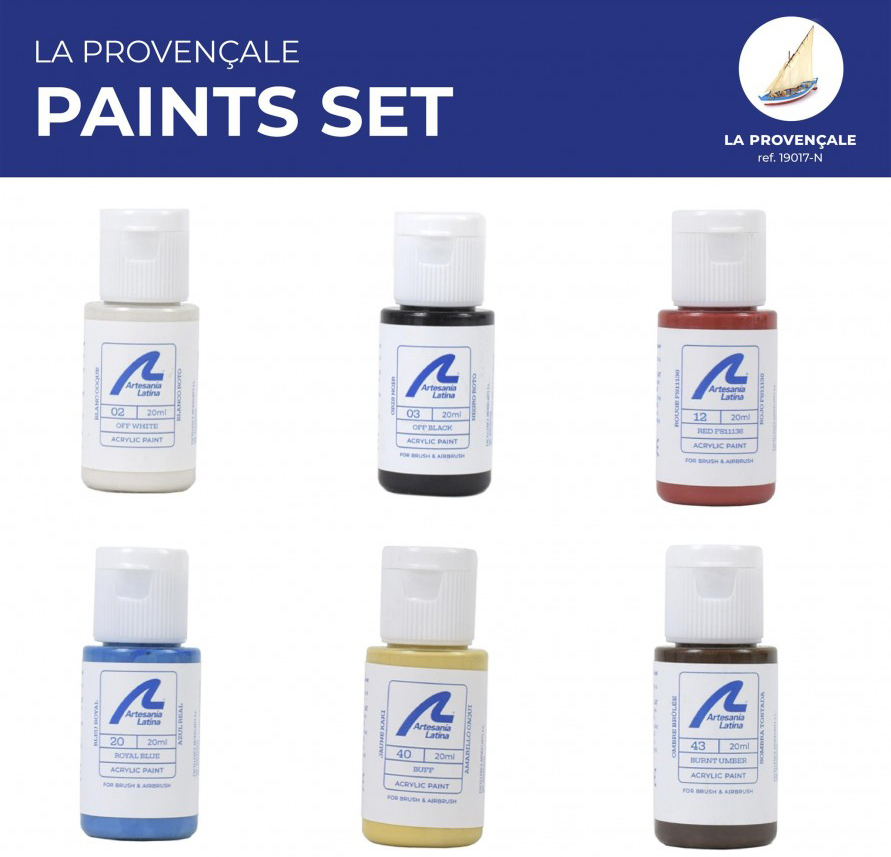 The drying time of the set of water-based paints for the La Provençale fishing boat model is very fast. Paints dry to the touch in about 20 minutes and fully dry in an hour. If you need to give a second layer, you will only have to wait approximately 6 hours. It is advisable to give it a white primer filler before applying our paints. The final result will be what your eyes see under these lines… Spectacular!