We continue on this post showing our modelers friends each fishing ship model in wood from our catalog. On this time, we are going to talk about the new modeling kits of this type of boat that Artesanía Latina has created for 2022 and the best sellers. On the previous publication, we left it in the fishing boat models for amateurs with at least an intermediate level of skills and knowledge. We go on, then, with that degree of difficulty in the construction of the miniature replicas with one of the two novelties of this year. Afterwards, we will review the traditional scale model of fishing boats for advanced modelers.
FISHING SHIP MODEL IN WOOD: FRENCH TUNA BOAT MARIE JEANNE
How beautiful! Artesanía Latina modeling team has done a great job to present this year that is almost about to finish one of our novelties. They have completely redesigned the wooden fishing ship model of Marie Jeanne tuna boat (22175), the traditional 1:50 scale French boat that currently delights fans of naval modeling. We have exponentially improved its assembly experience, being friendlier, thanks also to its high-quality parts. By the way, this model is perfect for those fans with an intermediate level and for those who wish to have a first contact with rigging. Look at the resulting model!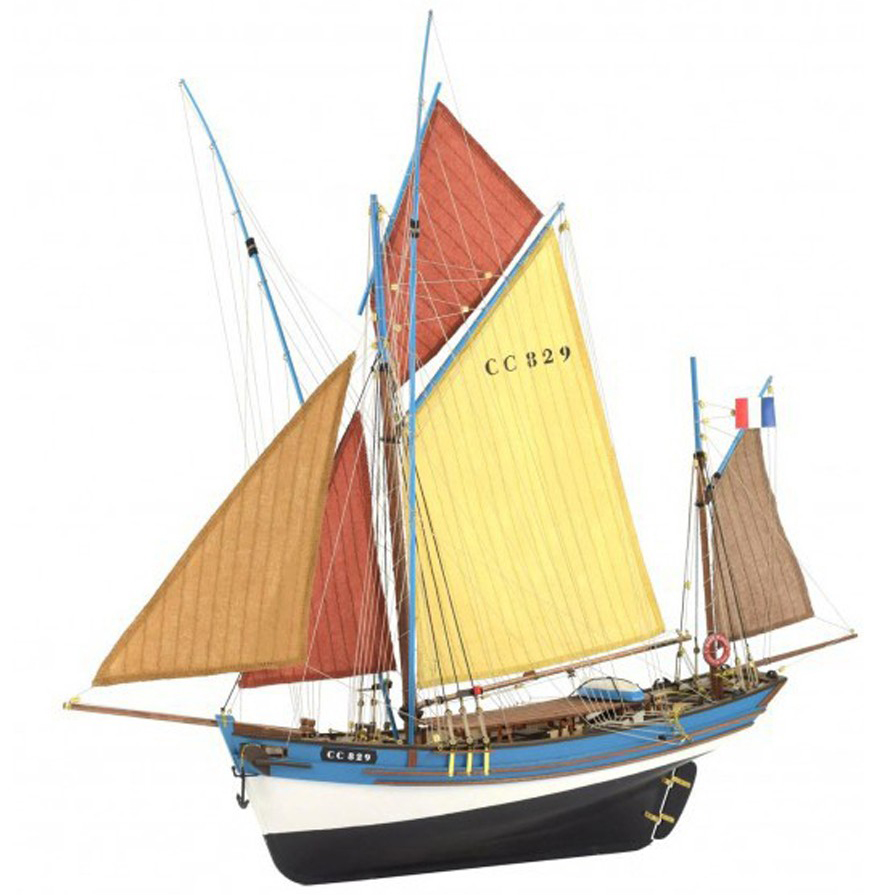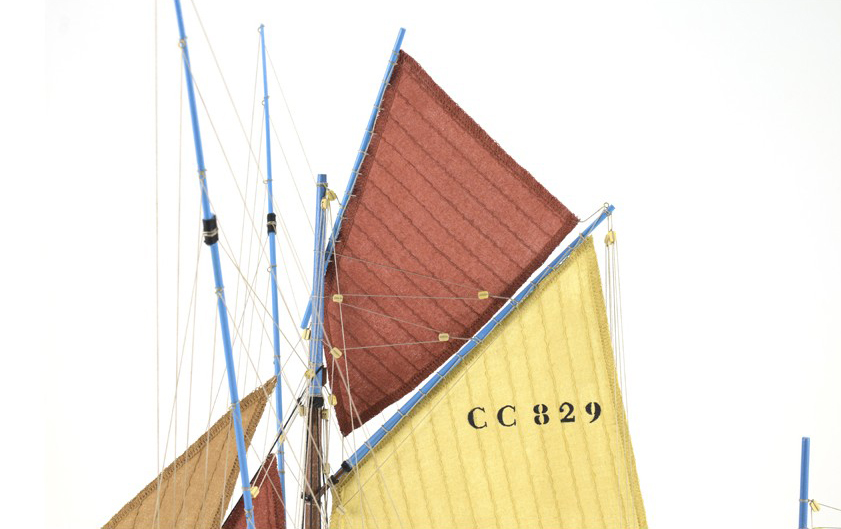 Regarding the contents of the ship modeling kit with the fishing ship model Marie Jeanne, which has sailed since 1900 until 1950, these have the highest quality standards. Parts that fit together perfectly: board pre-cut by high-precision laser, hardwoods, photo-etched, brass and cast iron parts, as well as hand-cut and hand-sewn cotton sails ready to be placed. As a gift, the modeler can display the model thanks to its wooden exhibition base with a metal name plate. It can be illuminated with LED Lighting Set (27590), sold separately. To assemble the model, very precise step-by-step instructions on DVD format for the computer. Once the wooden miniature of the tuna boat is built, it measures 22.24" (565 mm) length, 4.52" (115 mm) width and 19.48" (495 mm) height.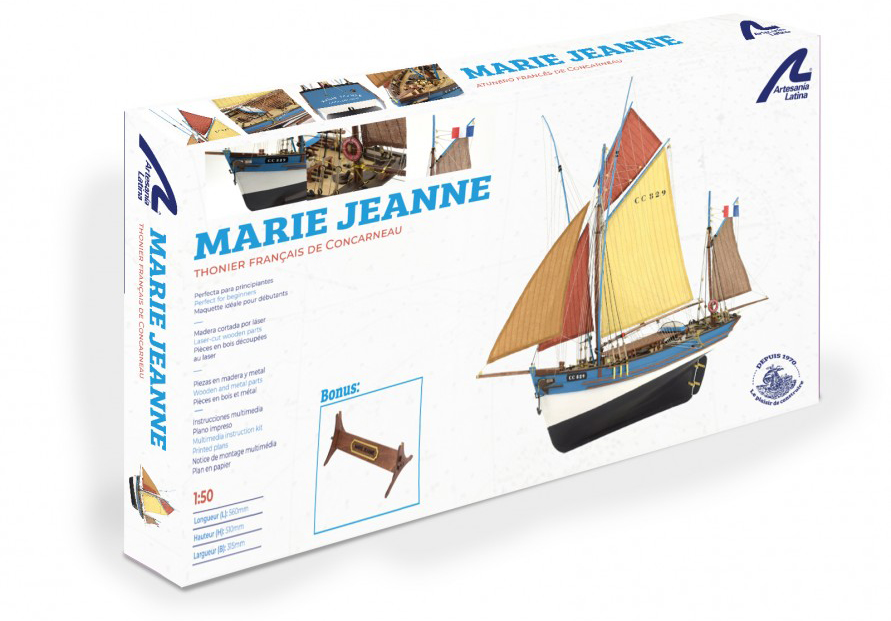 If you want to achieve great finishes and make it look absolutely real, what better than painting it. We recommend your new Water-based Acrylic Paints Pack (277PACK12), with eleven different fast-drying colors, for sale separately. The modeler will appreciate that the results are spectacular.
FISHING SHIP MODEL IN WOOD: BOTTER, THE DUTCH FROM MARKEN ISLAND
Another of the magnificent novelties in 2022 is the model of the Dutch fishing boat Botter (22125) at 1/35 scale. Simply, a jewel of naval modeling for modelers with an intermediate level. Now, with a revamped image and a renewed construction process so entertainment is assured and headaches caused by parts that don't fit have been eliminated. The fishing boat from the Island of Marken that sailed the Zuiderzee Sea will not disappoint those who ride it, on the contrary, they will be enthusiastic. It was, is and will be one of the most beautiful models for its details and for being different from the others!
Talking about the contents of the Botter, this contains high precision laser cut board parts, hardwoods, brass, cast iron and hand-sewn cotton sails ready to be placed. On this new edition, it gives us a beautiful wooden exhibition base to build with a name plate. As regards the instructions for its assembly, these come on video and on DVD for computers (Windows and Mac). Our modelers have built the model recording with their cameras the assembly of each part. Remember that to watch the complete video instructions and for free you must go to our Youtube channel. Assembled, it measures 18.70" (475mm) length, 4.52" (115mm) width and 14.76" (375mm) height.
Get the best finishes so that the faithful miniature replica of the Botter is identical to the one that sailed the seas for centuries, paint it! We suggest its new Water-based Acrylic Paints Pack (277PACK20), with six different fast-drying colors, for sale besides. The modeler will realize that it has been totally worth it.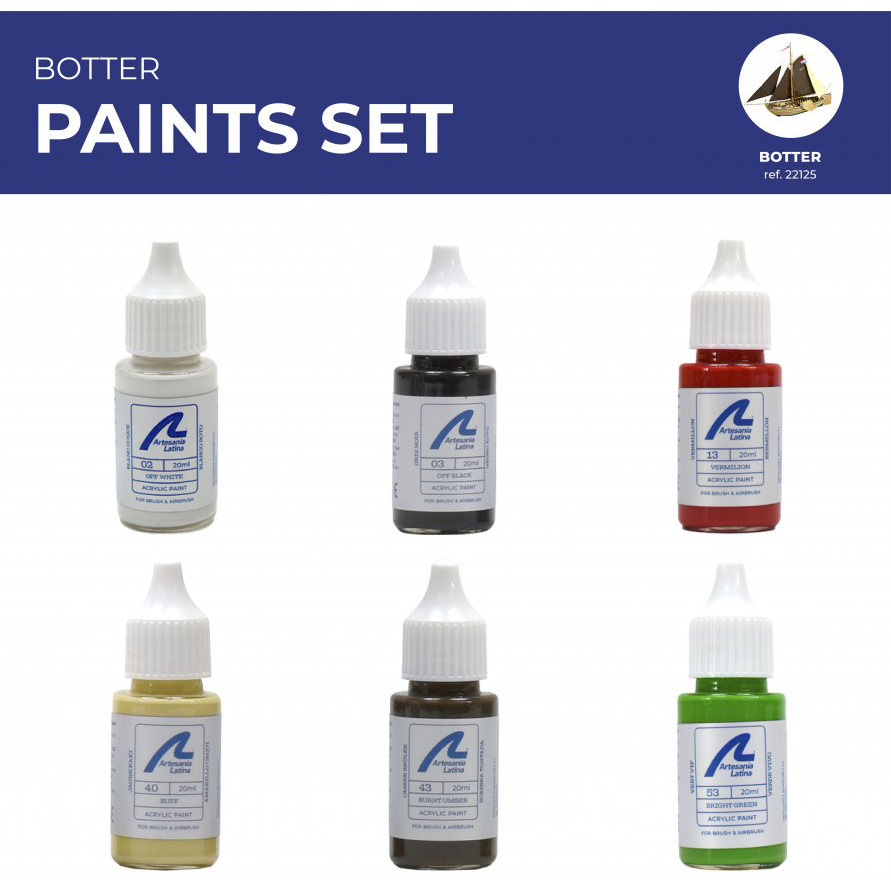 FISHING SHIP MODEL IN WOOD: BLUENOSE II, THE CANADIAN SCHOONER THAT RACED TOO
The last fishing ship model for modelers with at least an intermediate level of skills and knowledge is the Canadian schooner Bluenose II (22453). It was also dedicated to regattas during the last 20th century. Made of wood and on a 1:75 scale, the faithful reduced-size replica of the Bluenose II has a construction system using a false keel and frames that brings the assembly of the model closer to the real boat. Without pretending to lack modesty, this model of the schooner made by Artesanía Latina is the best on the market for its quality and details.
Contents of the Bluenose II, this one comes with high-quality precision laser-cut board parts, precious hardwoods, brass, cast iron, cotton threads and hand-sewn sails ready to be placed. Its instructions on DVD for computers are also the most optimal compared to those of other firms. Once it is fully assembled, this wonderful historical model measures 27.16" (690mm) length, 4.33" (110mm) width and 22.44" (570mm) height.

FISHING SHIP MODEL: MARINA II, THE TRADITIONAL TUNA BOAT FROM CANTABRIAN SEA
We now enter the world of advanced modelers with the first wooden fishing ship model for this level. The traditional bonito and tuna boat from the Cantabrian Sea Marina II, at 1:50 scale. This exact miniature reproduction of this type of boat is one of the best sellers worldwide, along with its colleague Carmen II, which we will talk about later. It is a classic model that should be present on any collection of fishing boat models. It just… looks like the real tuna boat!
Concerning the contents of the naval modeling kit Marina II, its box comes with parts of board cut by high precision laser, hardwoods, brass, cast iron and cotton threads. Assemble the scaled-down replica with our comprehensive, full-color step-by-step guide, accompanied by ship plans, on DVD for PC. Assembled, the model measures 24.01" (610mm) length, 6.18" (157mm) width and 17.71" (450mm) height.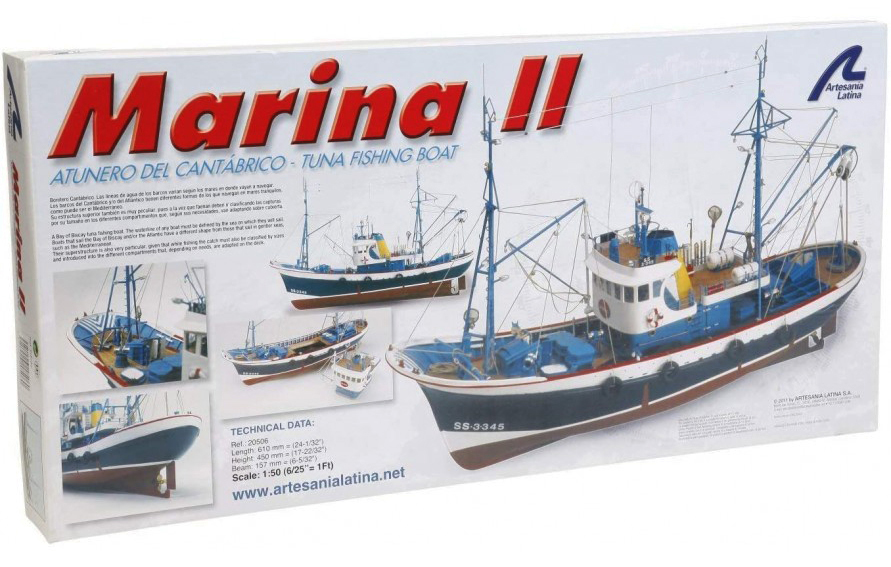 Do you want your model to look like the original? Painting it is totally necessary, especially with its new Water-based Acrylic Paints Pack (277PACK3), which also can be used for the model of Carmen II, with twelve different fast-drying colors, sold separately. There is no doubt that the results will be spectacular.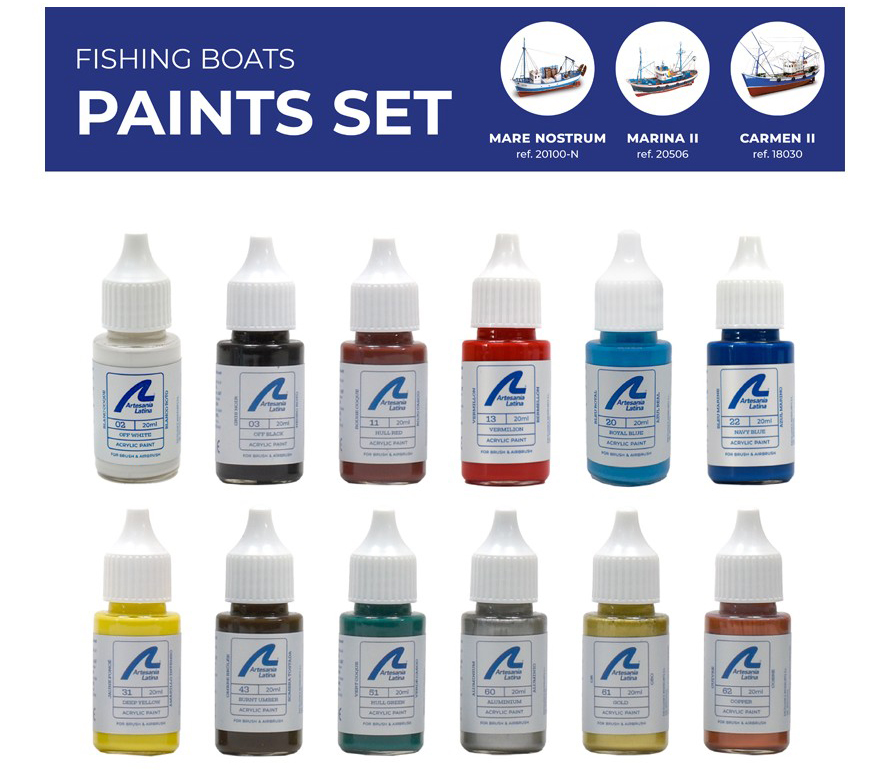 CARMEN II, THE MOST FAMOUS TUNA BOAT IN THE WORLD
The last wooden fishing ship model for advanced level and in general from the wide assortment of Artesanía Latina is the well-known tuna boat, also from the Cantabrian Sea, Carmen II (18030) at 1:40 scale. Another of the top sales of our firm around the globe. The fishing method of these tuna vessels is trolling and live bait, also that of the Marina II. Hurry to assemble the Carmen II before stocks run out! We will surprise you in the future with great news related to this wonderful model.
What are the contents Carmen II kit brings? All the parts you need to assemble the tuna boat: board cut by high precision laser, hardwood, brass, cast iron and cotton threads. At the time of assembly, you have our complete step-by-step guide, accompanied by the plans of the finished model, on DVD format for your computer. We remind you that none of the naval modeling kits come with printed instructions.
With this last model of fishing boat, we have reviewed all the existing ones on our catalogue. You have to choose! In addition, we offer faithful miniature replicas for modelers with different levels of difficulty. Start with the one that best suits yours… and then increase the complexity with another superior model! Cast the nets to ship modeling!