In our effort to facilitate the assembly of models and to bet on the development of precise instruments, we present our friends clients new modeling tools. We try to make this hobby an even more pleasant time for the modeler. With the tools made by Artesanía Latina, you can enjoy much more when you are building the scale model of any ship or plane. These tools make different tasks much easier because they are very specific products.
That is why our team of designers and modelers is always thinking to devise, design, create and manufacture any tool that our loyal customers may need. Many of them have supported this Spanish modeling brand for more than fifty years.
And… What we have created? Well, several new modeling tools that we show below. The Multi-Function Workbench (27646), the A2 Folding Cutting Mat (27642F), the Waterline Marker (27649) and the Boat Hull Support (27011). This last one has been in stock for a long time, but we had never dedicated a space to it on the blog… And it deserves it!
NEW MODELING TOOLS: MULTI-FUNCTION WORKBENCH
New for 2023! The first of the new modeling tools that we teach is the Multi-Function Workbench (27646). Just from now for sale on the web. It is a fantastic and ingenious help for the modeler during the construction process of any model or craft. Because? Because the modeler will have free hands to work.

The Multi-Function Workbench makes possible to support and attach parts to the mentioned support in order to treat them during the cutting and sanding phases, among other actions. Don't think about it, it is an essential tool at any modeler's or craftsman's workshop. Attach it to the work table with two clamps -included-, to later support all kinds of parts.
Do you need precision? Well, the Multi-Function Workbench also provides it. This is so by having support guides for cutting and centering guides for drilling round dowels and strips with different sizes. We recommend, however, that you protect the work table with a cutting mat -sold separately- and set the stand on it before using it. It is a small tool, so it is totally portable.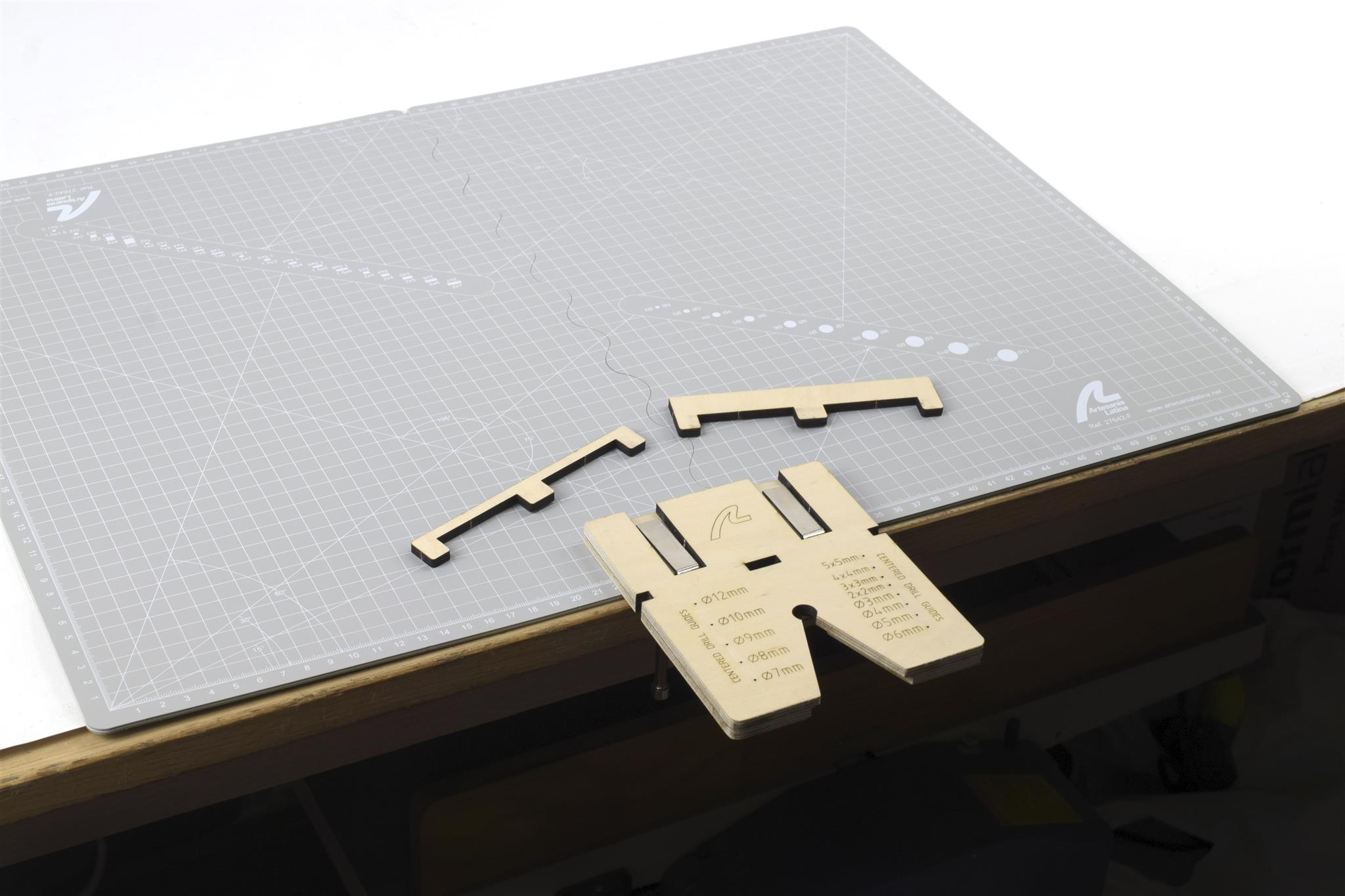 It requires assembly, so we suggest you use our White Glue (27602) -sold separately-, as it allows the modeler to move and reposition the two parts to stick as they dry slower than with cyano. Precisely, under these lines, you can see the assembly video of this tool:
NEW MODELING TOOLS: A2 FOLDING CUTTING MAT
This is another of the new modeling tools, on sale from end of 2022. Let's pay a little attention to it because until now we haven't done it on the blog. It is the A2 Cutting Mat… Foldable! (27642F), also intended for any other type of craft. Just in the previous section, we recommended the use of a mat with the Multi-Function Workbench. Well, this is the perfect one because it is big and you can fold it to store it or take it with you wherever you want! The measurements of without folding in A2 size are 23.62" (60 cms) x 17.71" (45 cms), folded it measures 17.71" (45 cms) x 12" (30.5 cms).
Su diseño personalizado, con medidas en centímetros y milímetros, medidas de los ángulos más habituales y usados, y guías impresas para identificar el tamaño de varillas y listones, facilita el trabajo minucioso y concreto del modelista o artesano. Dispone de marcas a modo de cuadrículas divididas. Este dibujo es un apoyo fundamental.
On the other hand, it has a tape attached to the bottom that holds the two parts together and folds when folded. The A2 Folding Cutting Mat is manufactured with PVC that gives its great resistance and durability. Shallow cuts made on the A2 Folding Cutting Mat will virtually disappear over time. However, deep cuts will remain.
WATERLINE MARKER FOR MODEL SHIPS
Another recent news! This time, it is a specific tool for naval modeling: the Waterline Marker for Model Ships (27649). How many times did our client friends request it! Your wishes are orders to us. Already at our warehouses!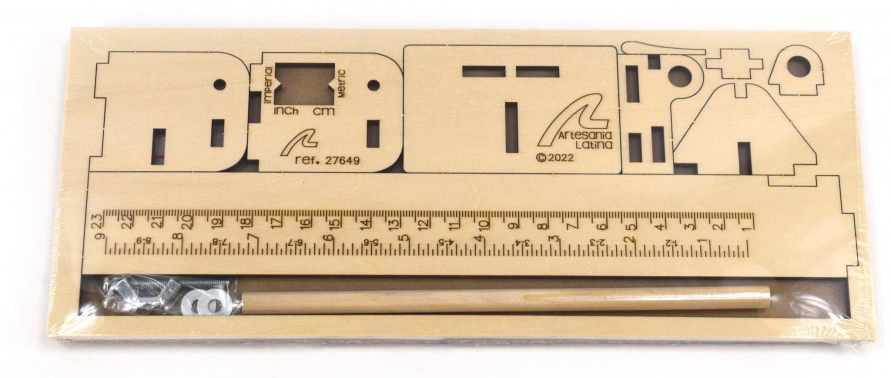 It is essential to be able to paint or varnish later and properly the hull of the ship model -if you do not want to do it on the traditional way, not so precisely- with adjustment metric and imperial systems. With the help of this tool and the pencil, draw that line around the ship. To do this, we suggest that you hold the boat on its exhibition base or on the Hull Support (27011) -sold separately-, which we will talk about on the next section. In short, it can be used as a scriber if you want to make lines parallel to the horizontal work.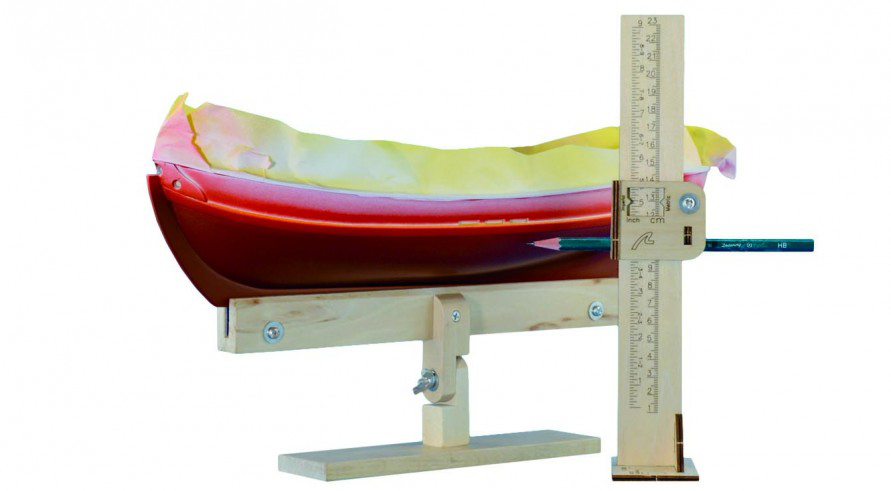 HULL SUPPORT FOR SHIP MODEL BUILDING
The last of the new modeling tools -naval- that we present is the Hull Support (27011). It is ideal for working on the ship model after assembling its hull. Thanks to this tool, the boat remains completely attached, without any movement. As a ship modeler, it is absolutely necessary, as it allows you to have both hands free during the assembly process.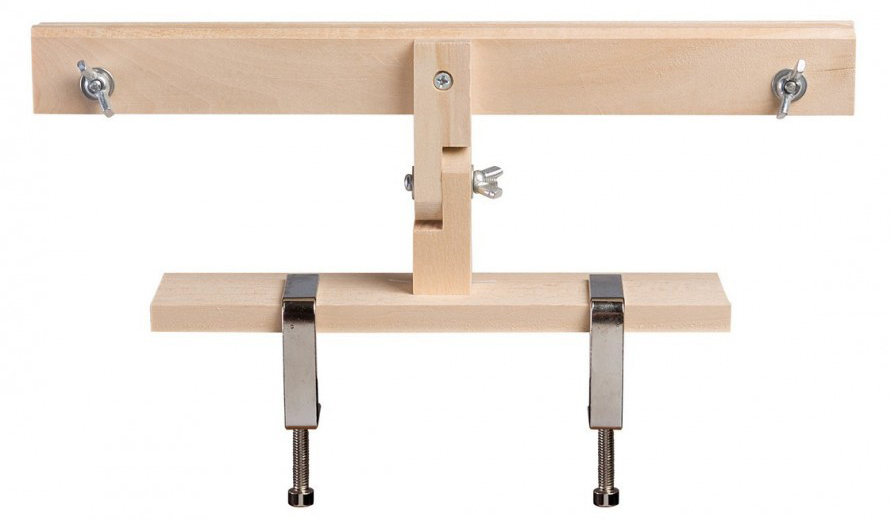 Made of solid wood and with a clamp length of 300 mm, it allows to hold boats with a false keel up to approximately 400 mm. The boat hull support is valid for models of the 19000, 20100 and some of the 20400 series of Artesanía Latina.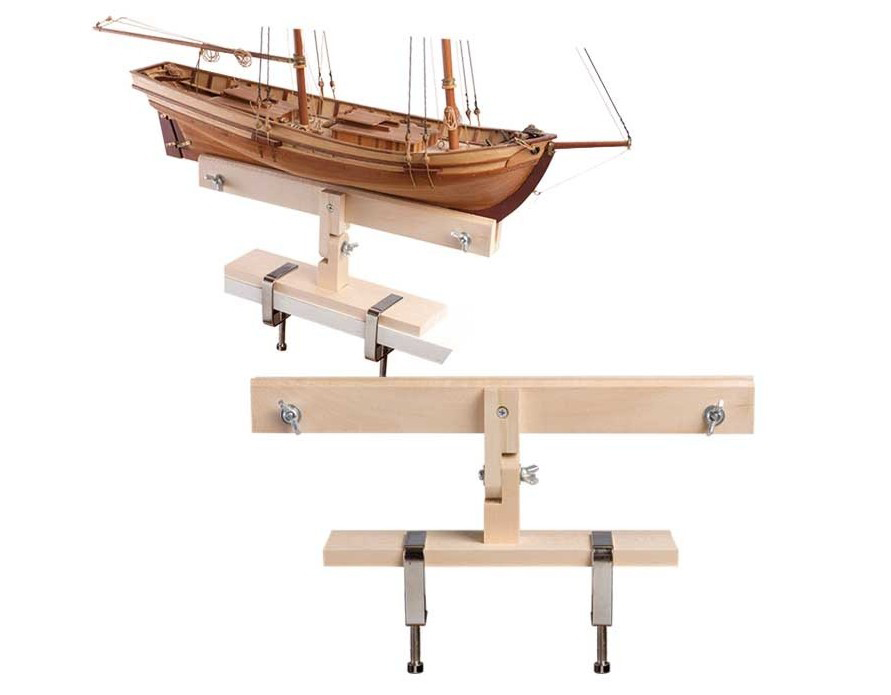 It has a pivot point to tilt the hull to the precise working position. The fastening of the hull and the pivot point of the support are attached by means of thumb screws, without the need for additional tools. Two mini metal clamps are included to attach the support to the edge of the work table.
Soon, discover on this blog the new Micro Tools that Artesanía Latina has created. In the meantime, feel free to take the new modeling tools presented on this post to your workshop! Build with precision and comfort!