We are almost finishing a year 2022 full of surprises. We have created new wooden ship models, innovative tools and we have reissued and improved numerous naval classics from our collection of naval modeling. For many years, there have been several models that we have not been able to manufacture but that have always been in our minds to sell them again. Our modelers friends demanded it that way. This is the case of the latest addition to our extensive catalogue: the renewed Harvey Model Ship (22416) in wood and at 1:60 scale.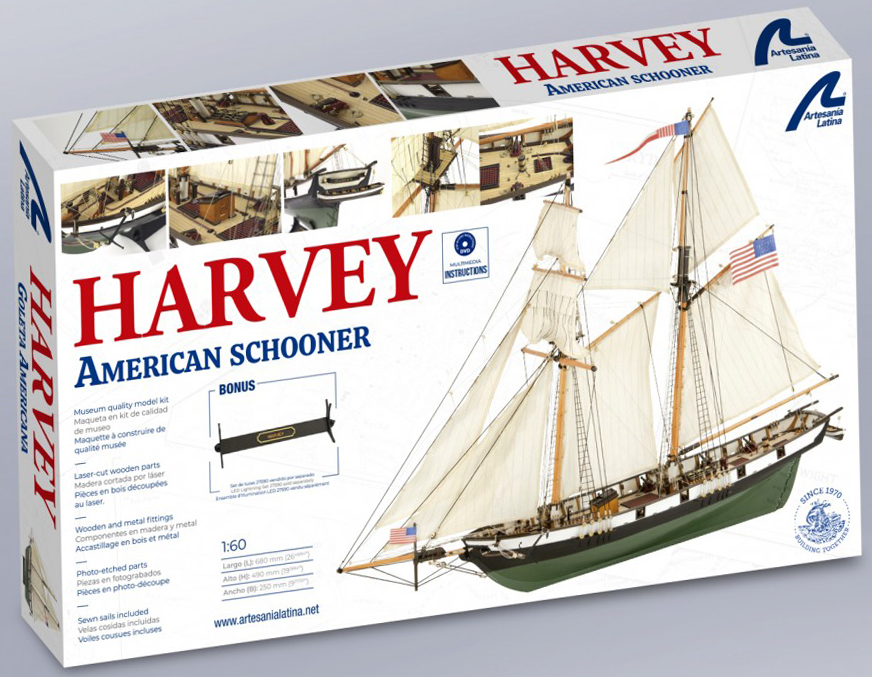 Another great modeling kit made by Artesania Latina, this time, with the fabulous American schooner of the 19th century. It is aimed at modelers with at least an intermediate level of skills and knowledge on this wonderful hobby. Below these lines you can watch the presentation of the faithful miniature replica of the Harvey thanks to a spectacular video.
CONTENTS HARVEY MODEL SHIP: WOODEN MODEL BUILDING KIT
This wonderful wooden model ship of the Harvey, a 19th-century American schooner, has eight cannons and extremely fine details on deck. This gives greater weapons power to this historic American boat. It is a clearly reminiscent of the lines of the old coastal schooners of the 1860s in the United States. Inescapable its construction by any modeler who wants a complete collection. Let's check what are the contents of the kit, all of them with the highest standards.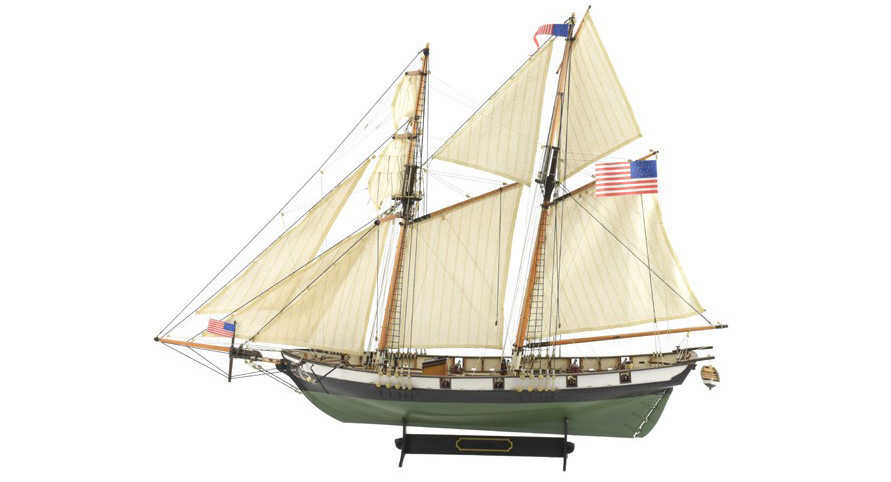 With this new limited edition, the modeler has highest quality parts such as precision laser cut basswood plywood and hardwoods (strips, rods and veneers). In addition, a photo-etched sheet in brass and die-cast with decorative parts to get a higher level. Without forgetting its sails with cotton fabric and flags -ready to be placed- and cotton and steel threads.
As a gift so that the model is perfectly exposed, a wooden exhibition base with a name plate prepared for the LED lighting (this system is sold separately).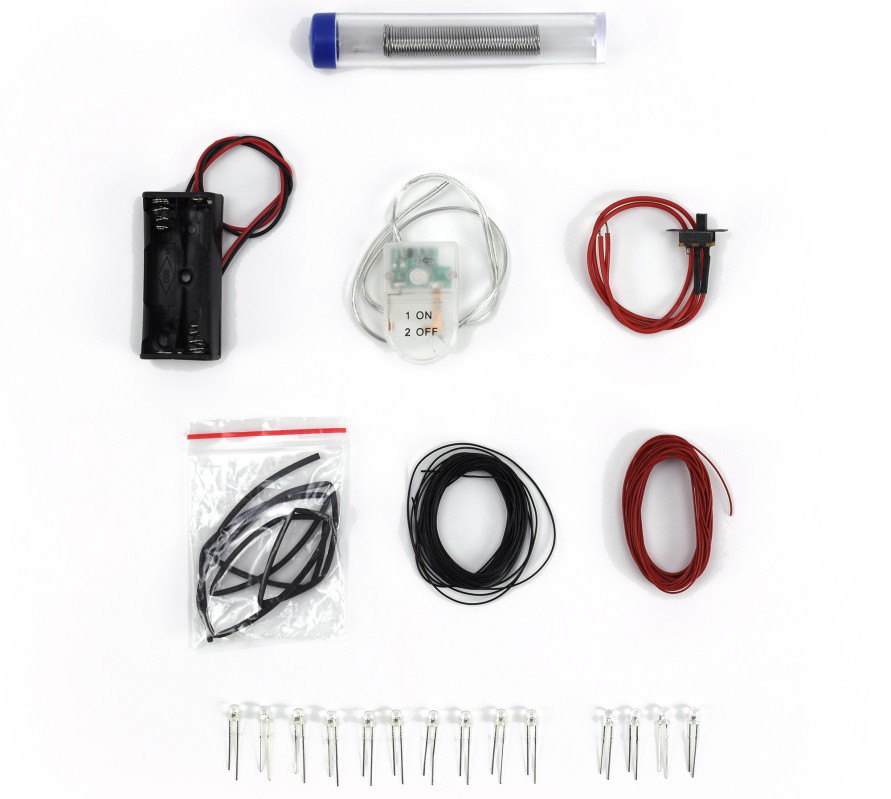 Next, we open the kit box. Check with this video the model ship contents of the Harvey American Schooner (22416)!
ENHANCED INSTRUCTIONS FOR HARVEY MODEL SHIP
Harvey model ship has a DVD for computer (Windows and Mac) with completely redesigned instructions. With real step-by-step photos that clarify everything. On this way, we have improved the assembly experience for our modeler friends. Now, the construction process will be much more enjoyable. Printed instructions are not included. Remember that you can also download the instructions for free at product sheet for this model on the Artesania Latina website.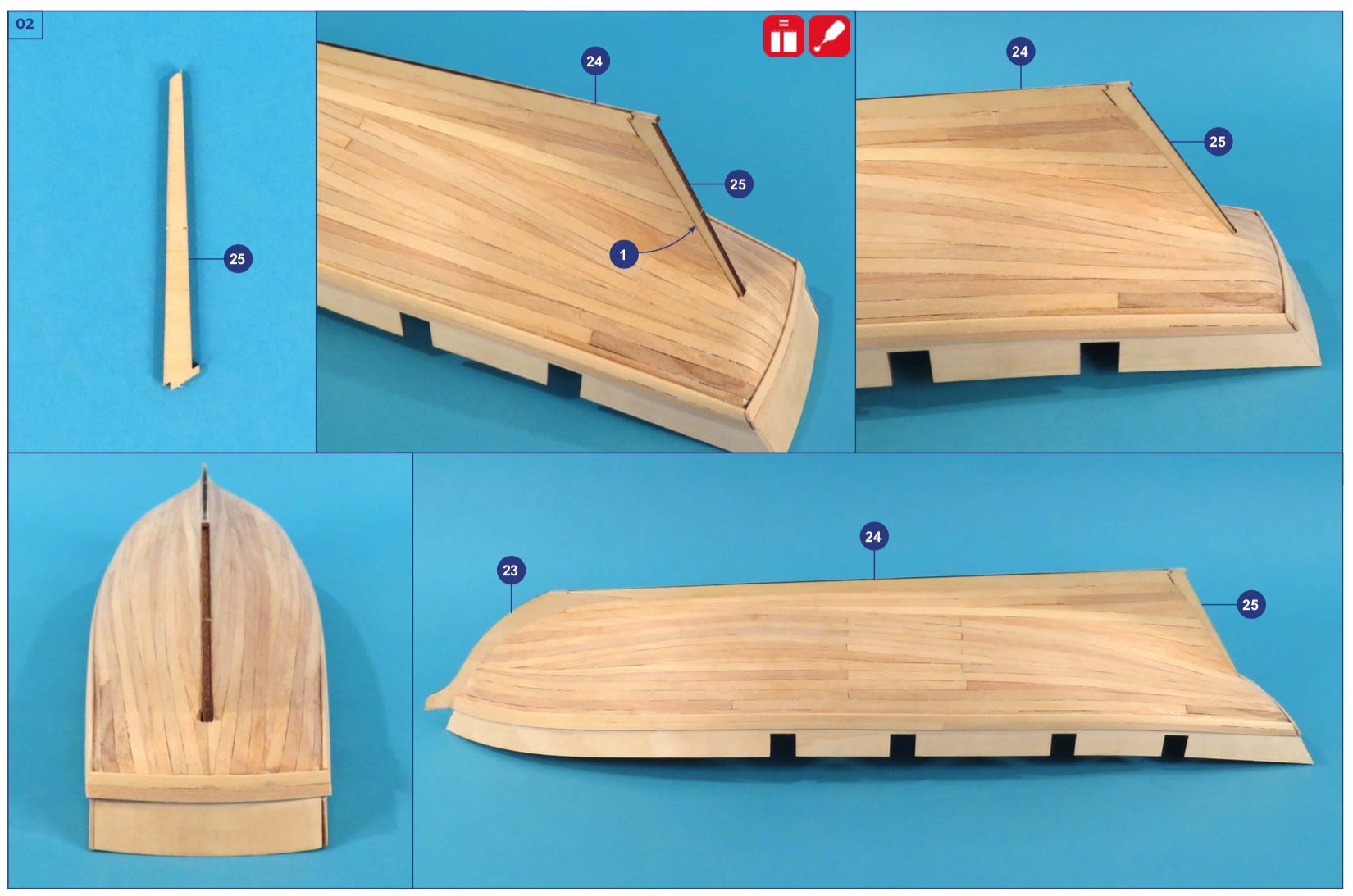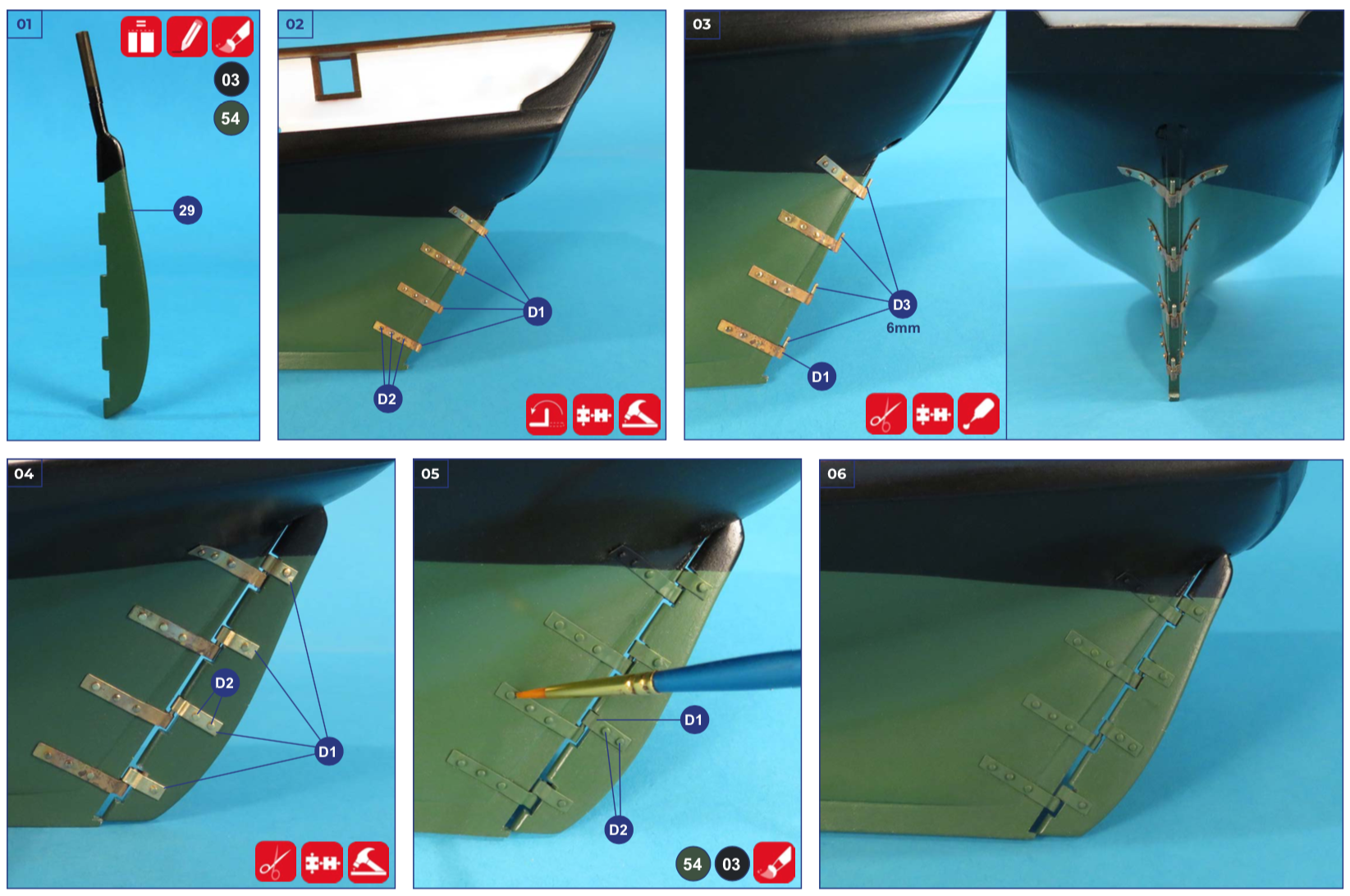 Once Harvey model ship (22416) is assembled, it measures 26.77" (680mm) length, 19.29" (490mm) height and 9.84" (250mm) width.
SET OF ACRYLIC PAINTS FOT SCHOONERS MODELS
Achieve the best finishes for your 1:60 scale Harvey model ship. Paint it with the Harvey Schooners Acrylic Paints Set (277PACK21), for sale separately. It contains 12 bottles of 20 ml with water-based and fast-drying paints. Available colors are Off-White, Off-Black, Buff, Bright Red, Cocoa Brown, Burnt Umber, Hull Green, Gold, Gun Metal Gray, Garnet, Hull Dark Green and Semi-Gloss Dye Varnish Oak Shade. We recommend the use of airbrush for painting, although the modeler can also do it with brush.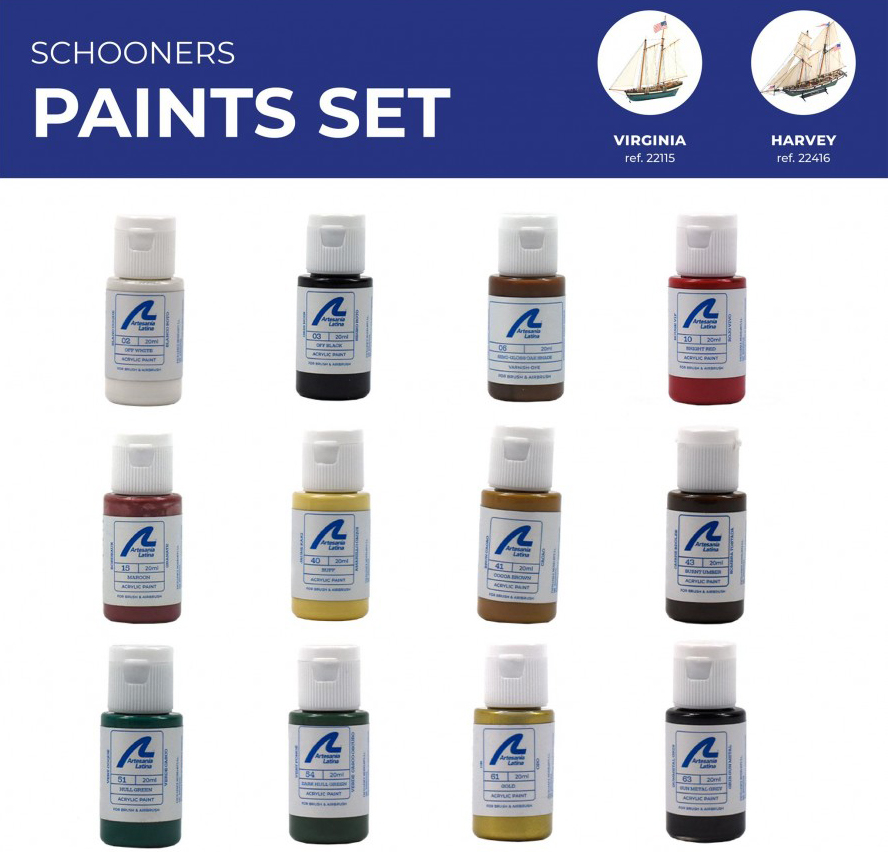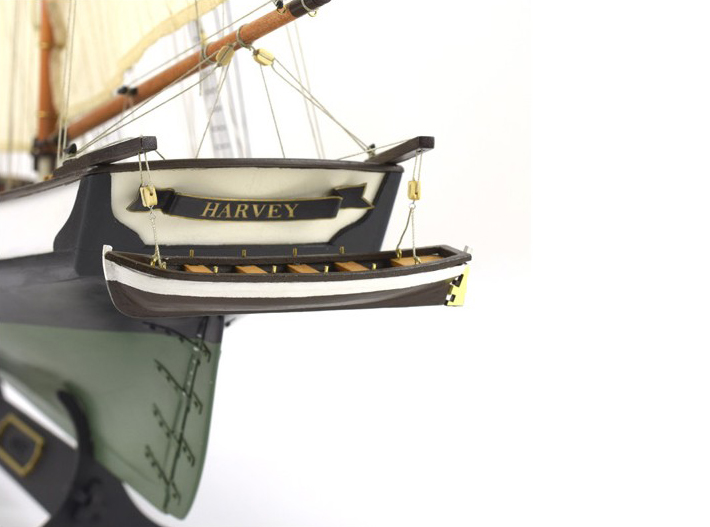 These schooners are a type of sailboat defined by their rigging. They have a fast hull and sail with good ability to sail to windward. They transported cargo and fish, but they were also used for security issues like corsairs did. In short, with the model ship of Harley American Schooner (22416), modelers will have a very fun assembly experience. It is a beautiful jewel of ship modeling. Now available for you to assemble at your modeler's workshop!